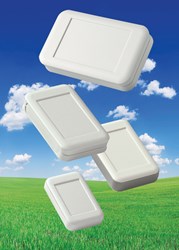 Now this important environmentally friendly solution is available from stock for SOFT-CASE to make it even easier to specify.
Bridgeville, PA (PRWEB) February 12, 2014
OKW's SOFT-CASE handheld electronics cases are now available from stock in environmentally friendly Biograde bioplastic.
Biograde is suitable as a replacement for existing fossil plastics, such as ABS, which until now has been the only standard choice for this range.
OKW selected Biograde as its preferred bioplastic because it is carbon neutral, technically compostable and biodegradable.
Biograde enclosures have similar mechanical and physical properties to ABS boxes.
Electronics design engineers can now ensure genuinely green credentials for their products by specifying an off-the-shelf biodegradable housing.
OKW has designed SOFT-CASE plastic cases for electronics to be as comfortable as possible for the user.
The enclosures are available in four standard sizes with external dimensions ranging from 2.00" x 3.26" x 0.55" to 3.62" x 5.90" x 1.10".
Typical applications include modern high value electronic devices such as portable instruments, medical and wellness devices, mobile data logging and data capture equipment.
Uniquely for handheld enclosures, the design is suitable for wide format displays and keypads.
The top of the enclosure has a wide recessed area for locating an LCD or membrane keypad. A raised panel on the long edge can be used for mounting USB, power or serial connectors and controls.
The three larger size cases are available with battery compartments for fitting 1.5V AAA, 1.5V AA or 9V cells.
Screw pillars are provided on the inside of the top and base parts for fitting PCBs. The cases are assembled with four self-tapping screws. Prices for the SOFT-CASE range start at $10.
Accessories include intermediate ring moldings which increase the internal height; belt and pocket clips; battery cradles and contacts; tilt feet and wall mounting clips.
SOFT-CASE housings for PCBs are also compatible with OKW's 4-K in-vehicle holding system which gives users a selection of securing options.
The 4-K system offers a choice of four holders (one with adjustable jaws) plus various mounts: ball joint; bike handlebar clamp; flexible swan neck with suction pad; a secured bracket that hinges in two directions.
Customizing options for SOFT-CASE include CNC milling and drilling of holes and cut outs, silk-screen and tampo printing of legends and logos, RFI shielding and assembly of components.
OKW Enclosures, Inc, Vice President, Sales, Sean Bailey, said: "Bioplastic has been available as a custom option for SOFT-CASE and our other enclosure ranges for some time now.
"Now this important environmentally friendly solution is available from stock for SOFT-CASE to make it even easier to specify," he added.
Features of OKW's SOFT-CASE electronics housings include:

Handy design in four standard sizes
Ergonomic design for maximum user comfort
Top recess for mounting a membrane keypad or LCD module
Raised connector mounting panel on the wide edge to accommodate more connections
Choice of intermediate rings – ABS (in case color or chromated) for additional height; soft TPE ring for extra height, IP54 sealing and to protect the outside edges from impact
Battery compartments for 2 x 1.5V AAA; 2 x 1.5V AA; 4 x 1.5V AA or 1 x 9V cells
Clip-on battery lid can be screw fixed
Internal PCB mounting pillars
Materials – ABS (UL 94 HB); carbon neutral biodegradable Bioplastic material; PMMA (UL 94 HB) for infra-red models
Protection Class – IP54 (with TPE intermediate ring)
Standard Colors – Off-white (RAL 9002), Lava Gray (NCS S 7502-B), Infra-red Black (RAL 9005)
Accessories – intermediate rings (ABS Off-white and Lava Gray; infra-red; TPE; chromated); tilt foot bar; Combi-Clip (belt and wall clip); battery contacts; eyelet; hand strap and lanyard; 4-K in-vehicle holding system.
OKW also offers three other ranges of small hand held housings:

MINITEC – for infra-red remote control units and other personal electronic devices
SMART-CASE – for key ring sized devices
DATEC POCKET BOX – IP-rated enclosures with recess and battery compartment.
OKW manufactures a wide selection of cases for handheld, desktop and wall mounted applications including specialized plastic enclosures for electronic instruments.
For full specifications of all the ranges, view the OKW website or contact OKW Enclosures, Inc, Vice President, Sales, Sean Bailey, Tel: 800-965-9872.
-Ends-
Notes for Editors
OKW ENCLOSURES, INC.
Abele Business Park
3000 Old Pond Road
Bridgeville
PA 15017
USA
Tel. 800 965 9872
Tel. 412 220 9244
Fax. 412 220 9247