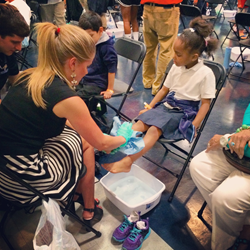 There are countless children in Acadiana who are in need of not only new shoes, but also mentorship and care.
Lafayette, LA (PRWEB) July 28, 2014
The Handley Family Foundation, the philanthropic division of Michael and Schanda Handley's privately-owned companies, has invited Samaritan's Feet to meet a select group of community leaders in Lafayette, Louisiana. The intimate event will take place on Wednesday, July 30, 2014 at Ruth's Chris Steak House on Pinhook Road in Lafayette. Special guests have been invited to a cocktail reception at 6pm followed by a four-course dinner at 7pm. New Orleans Saints Super Bowl Hero and local Lafayette resident Chris Reis will be the featured guest.
Samaritan's Feet is a 501(c)(3) humanitarian aid organization that shares a message of hope and love through washing the feet of impoverished children around the world and adorning them with new shoes. Michael Handley, Chairman of the Handley Family Foundation, serves on the Samaritan's Feet Board of Directors and has participated in dozens of local and international shoe distribution events. "Samaritan's Feet is one of the most ambitious, hands-on nonprofits I have ever had the pleasure of being involved with," says Handley. "It is important that we bring the knowledge of its mission and the potential to expand programming to Lafayette as there are countless children in Acadiana who are in need of not only new shoes, but also mentorship and care."
This past year, the Handley Family Foundation sponsored a Samaritan's Feet distribution event at Lagniappe Academies, a public charter school in one of the most impoverished areas of New Orleans. In addition to providing shoes for each of the students, the foundation also contributed the resources necessary to provide a holiday celebration and gifts for every student at the school. Seeing the direct impact of the event has inspired Handley to increase the foundation's reach in his hometown. Handley remarks, "Our foundation's mission is to support organizations that foster and develop human potential. The promotion of Samaritan's Feet within the Lafayette community is an obvious and exciting next step."
Media representatives are welcome to attend the cocktail reception at 6pm.