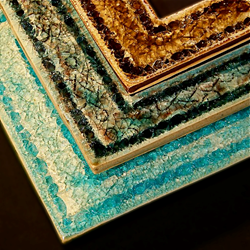 Sustainability is the guiding force behind all of our business decisions. Each piece is designed to be a one of a kind functional piece of art and is produced in a production line for consistency and value.
Ferndale, WA (PRWEB) August 14, 2014
As the sweet memories of summer linger with the warm days, shoppers look to ways to capture these glorious moments. Three special occasions can be perfectly met with one enjoyable shopping trip. Paloma Pottery has been in business for almost 15 years now, creating unique, eco-friendly handmade artwork, and earning customer loyalty all the while through their fantastic service. Browsing the Paloma Pottery website is a treat in itself, and the various creations inspire a world of possibilities. Choose any two Picture Frames between now and Labor Day, and receive a third for free. This is a rare offer that lets a customer's dollar go even further.
These pieces make ideal gifts for all kinds of friends and family: a brother's graduation, a retreat with college friends, a sister's engagement party. Capture the joy of that special trip or family visit through a framed photo. This simple gesture can yield a wonderful, timeless and earth-friendly gift. A matching trio of framed photos also makes a wonderful wedding present. Now is a great time to set a few of these gems aside for the time when summer is just a sweet memory.
These sturdy frames feature a recycled poly carbonate window with a hinged back for easy access. Durable construction supports the jeweled face of crackle glass and glaze. All frames are available in a range of colors from their Earth, Ocean and Blanco series, so shoppers are sure to find the right fit to match any personality or style. These frames are the level of quality that speak to elegance, art-gallery sensibility and unique eco-friendly design. Their appeal is far-reaching indeed.
The Paloma team knows what wins the hearts of customers and gift-givers alike. So take a look and see what has been drawing shoppers in time and again for nearly 15 years. "Sustainability is the guiding force behind all of our business decisions," says founder Nicole Whitney. "Each piece is designed to be a one of a kind functional piece of art," Whitney continues. To redeem this special offer, simply complete a purchase by September 1, 2014 and receive three glorious color combinations for the price of two.
About Paloma Pottery:
Paloma Pottery has been online for 13 years now, and the mark of endurance shines through its work. Continually improving and expanding her line, Founder Nicole Whitney has grown Paloma Pottery into a thriving artisan presence. For those who are seeking exceptional quality gifts with a unique, eco-friendly design as well as solid business ethics, PalomaPottery.com is the place. For more information, please visit http://www.palomapottery.com or call 877-669-0783.