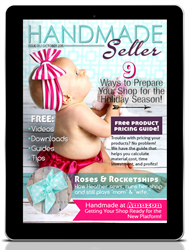 It's the first magazine that truly helps handmade sellers build a business around their tallents.
Missoula, Montana (PRWEB) October 15, 2015
It feels like just yesterday that Etsy first launched their platform for handmade goods which made it instantly possible for anyone to start a business at home around their handmade products. Back in the day it was rather easy to get products seen on websites like Etsy, but as more and more people attempt to build an income from their craft, it becomes harder to obtain that elusive "top seller" status.
Some are content with just a few sales a month while others look to quit their day job and focus entirely on their talent. Platforms like the new Handmade at Amazon can certainly help get sellers more traffic, but there is much more to building a business than just opening up a shop.
This is because selling online is no longer as simple as posting something on Etsy or Handmade at Amazon and waiting for business. A seller's page must be optimized to convert viewers into buyers, sellers need to find their target market, and then they must learn how to promote themselves. It all comes down to proper marketing techniques which involve so much more than just buying ad space or posting on Facebook.
The Handmade Seller magazine is an interactive publication built and designed by actual sellers and experts in the industry. With video tutorials, downloadable guides, training articles, and more, the magazine seems like a promising way to learn everything there is to know about building a business around handmade products. They cover all topics including starting with photography for Handmade at Amazon in the October issue and they are dedicated to expanding training materials in the upcoming issues specific to Handmade at Amazon.
Impressively, the entire magazine and company was created in-house by just four women. Dani, Sarah, Heather, and Kateland each bring a unique talent to the table and together they were able to build an interactive and educational publication themselves. It seems easier to put trust in people who can prove their abilities than to trust advice from those who do not practice what they teach. The Marketing Mavens, as they call themselves, did not even hire a service to do promotions for the magazine launch, but instead, did it all themselves through a complex, grass-roots marketing campaign. This further demonstrates that they are more than qualified to help small businesses grow.
If anyone could use help boosting their revenue this year by learning how to build a genuine business around their crafty talents, then these four ladies and this magazine is an investment worth looking into. More than anything, the publication is dedicated to helping others flourish and with a price point of only $2.99 per magazine; it's easy for anyone to open that first page and starting benefiting from the tools and training material inside.