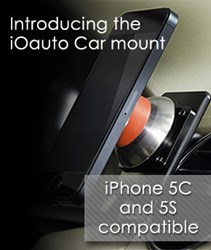 With ProClip, we have created a car mount that we think is better than any of the other options out there.
Cary, IL (PRWEB) December 20, 2013
With nearly 1 in 4 States having a "Hands Free" law in effect, and with Illinois following suit as of January 1st, there is a growing need to have a device holder that can help keep a driver from being distracted while on the phone. While there are a lot of solutions in the marketplace, few offer an easy mounting system, and even fewer are Made in America.
iOmounts LLC, designer and manufacturer of the award-winning iOmounts™ tablet and smartphone mounting system, launched the iOauto line of universal car mounts for cell phones, tablets, and dedicated GPS units just for that reason. The new products combine the patented iOmounts mounting and rotation system with vehicle-specific dashboard mounts from industry leader ProClip USA.
The two components from iOmounts and ProClip make the iOauto products unlike any other car mount on the market. The ProClip vehicle-specific dashboard mounts securely snap into place in a few seconds without any drilling, adhesive or dashboard damage. The iOmounts system allows devices to mount instantly and rotate in any direction for the perfect viewing angle.
"iOmounts wanted to develop a car mount from the very beginning," says Tamas Kovacs, iOmounts founder and CEO. "With ProClip, we have created a car mount that we think is better than any of the other options out there. It also expands the iOmounts ecosystem, making it so easy to move and display your device in the home, office and car using the same attachment system."
Both the iOauto and other iOmounts are currently being manufactured in the Chicagoland Area, helping to boost manufacturing in Illinois. Multiple companies within the Chirch Global® Manufacturing Network are working together to bring the wide variety of components together into seamless assemblies, ready for consumers to order online.
The iOauto and iOauto Pro are available for $60 and $70, respectively; this cost is less than the estimated fine of $75 for driving without a Hand Free device in Illinois. They are both fully compatible with the iOmini, a stand for phones and small tablets that uses the same iOmounts mounting, rotation and attachment system.