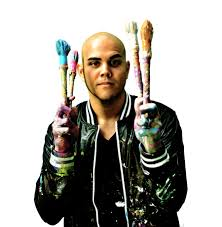 Tucson, AZ (PRWEB) September 16, 2015
Hands of Hope is inviting the public to come out and enjoy an exclusive opportunity to experience world-renowned performance painter, David Garibaldi as he creates murals that uniquely portray the ministries of Hands of Hope. The Fall Fundraising Banquet, entitled "Life Matters," will take place at the Tucson Convention Center (TCC), located at 260 S. Church Avenue, on Monday, October 5, 2015, at 7:00 PM.
Garibaldi will illustrate the mission of this local non-profit organization, while Executive Director John Tabor and Director of Programs Elisa Medina will share how Hands of Hope has reached out and touched hundreds of lives through these programs this past year. They will also speak about the horrific actions within the abortion industry that have recently been exposed, how they strive to help rather than exploit these at-risk women, and what people can do who want to help make a difference.
David Garibaldi began creating art at a young age. During high school, a teacher challenged him to walk away from a life of criminal graffiti and use his gifts to influence and help lead others toward positive directions. He was in the finals of the seventh season of America's Got Talent. Today, his struggles have turned to triumphs. Now, Garibaldi strives each day to give back and be a blessing to others. He has helped raise over one million dollars for non-profits, such as Hands of Hope.
Garibaldi and Hands of Hope offer others hope and help keep hope alive. Come watch as he grabs dollops of paint, dances across the stage, and dashes colors onto the canvas. Be surprised and astounded by the image and emotions that emerge and how closely they portray the good work Hands of Hope is doing in our community.
Money raised at this once-a-year fundraising banquet allows Hands of Hope Centers to continue offering pregnancy tests, ultrasounds, option counseling and other programs free of charge. Participate in the silent auction to own an original Garibaldi painting.
Attendance and TCC parking is free but reservations are required. Doors open at 6:30 PM with the banquet starting at 7:00 PM. For more information and to reserve your seat at the Hands of Hope Banquet, visit http://givehopetucson.com/ or call 520-780-8257.
About Hands of Hope
Hands of Hope is a compassionate, life-giving non-profit organization in Southern Arizona .It provides free services and support for people facing a pregnancy decision, including pregnancy testing, ultrasounds, prenatal care, post-abortion support, and support for survivors of sexual assault. For more information, please call 520-262-8166.
About the NALA™
The NALA offers local business owners new online advertising & small business marketing tools, great business benefits, education and money-saving programs, as well as a charity program. For media inquiries, please call 805.650.6121, ext. 361.