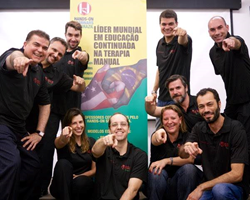 There is tremendous enthusiasm among Brazilian physiotherapists for Hands-On Seminars Brazil
Sao Paulo, Brazil (PRWEB) June 26, 2015
Brazilian physiotherapists receive similar education to that of their US colleagues in various universities and hospitals around the country. Then they seek to advance their educational level through continuing education courses and post graduate programs.
Hands-On Seminars, the world's leader in manual therapy continuing education, has been providing continuing education programs in Brazil for the past 7 years. "Our Mastery Certification in Manual Therapy program has been attended by hundreds of Brazilian Therapists and many of them have been certified" says Dr. Dimitrios Kostopoulos, co-founder of Hands-On Seminars USA, which established in New York twenty-three years ago.
In Brazil there are over 200,000 physiotherapists and almost double this number in the entire South America region. "There is great demand for high quality continuing education in this region and Hands-On Seminars Brazil is determined to provide just that in Brazil and beyond" declares Dr Konstantine Rizopoulos, co-founder of Hands-On Seminars USA.
Hands-On Seminars USA, who had a teaching relationship with Physion, a local continuing education organization, announced yesterday the launch of its own South America continuing education organization, Hands-On Seminars Brazil. "There is tremendous enthusiasm among Brazilian physiotherapists for the upcoming educational opportunities and the ability of this organization to connect Brazilian and South American therapists with their colleagues in the US and around the world" says Dr Joe Rosario, Executive Director and co-founder of Hands-On Seminars Brazil.
Dr Alexandre Cavallieri, professor of physiotherapy and Clinical Director of the new organization announced the names of the eight esteemed founding associate faculty who have joined Hands-On Seminars Brazil. These include: Dra Ana Murray, Dr Bruno Frazao, Dr Marcelo Karoleski (spine surgeon), Dr Michael Silva, Dra Paola Pini, Dr Rafael Agostinho, Dr Joe Rosario and Dr Alexandre Cavallieri. The Brazilian professorial team will be joined by the entire US and International faculty team of Hands-On Seminars USA to offer a huge selection of courses and certification programs that promise to take the clinical skills of South American physiotherapists to a totally new level.
Dra Paola Pini, marketing director, announced that the inaugural event of Hands-On Seminars Brazil will take place in mid-September in Sao Paulo and it is expected to be attended by a large number of physiotherapy professionals. "Specific date, venue and other events will be announced in the near future" said Dra Ana Murray, administrative director of Hands-On Seminars Brazil.
To find out more information visit the Hands-On Seminars Brazil Facebook Page