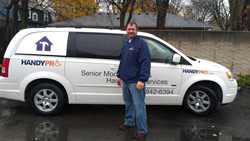 West Chester, OH (PRWEB) February 25, 2014
Hiring a handyman to do work inside a home requires giving a stranger access to the home and private possessions. When hiring a handyman in West Chester, Oh or anywhere for that matter, HandyPro cautions that finding an honest contractor who takes steps to hire only trustworthy employees should be a homeowner's highest priority.
HandyPro's homeowners tips include several ways a homeowner can ensure their safety when hiring a handyman to work inside their home.
A homeowner should always search for a contractor that does a background check prior to hiring potential employees. A background check reveals whether a person has a police record that would indicate potential problems inside a customer's home. The risk doesn't end once the job inside the home is completed, risky workers will potentially return to a home after the job is done.
Another tip for a homeowner expresses the importance of searching for a well established contractor with more than five years of working experience in the area. By doing so, the homeowner can ask the contractor for references. Questionable contractors, who probably should not be hired by homeowners, rarely stay in business long enough to create and maintain good references.
No matter who a homeowner hires in the end, it's always best to lock valuables in a safe. If no safe is available, HandyPro recommends moving valuables out of sight.
Lastly, if at all possible, a homeowner should remain in the house while construction is underway. While not always an option, this is the best means of preventing theft.
About HandyPro of Southwest Ohio
HandyPro of Southwest Ohio located in West Chester offers handyman services such as; bathroom remodeling, senior modifications, gutter cleaning, electrical, and plumbing.
Free estimates are also available and work is bonded and guaranteed. Over 1600 handyman services are offered to homeowners, property managers and businesses. HandyPro of Southwest Ohio service providers are dependable and trustworthy.
Family members who care for disabled relatives or aging parents trust their home modification services. From complete bathroom remodeling projects to wheelchair ramps and stair lifts; they can get it done for you.
Contact: Doug Haar
http://handypro.com/southwest-ohio-handyman.html
HandyPro of Southwest Ohio
6483 Holly Hill Ln
West Chester, OH 45069
(513) 714-0191