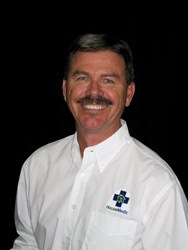 The handymen we hire must be experienced, are insured and screened and then trained to provide excellent customer service. Our customers are then confident that the work performed on their home will be completed to the highest standard
Cincinnati, Ohio (PRWEB) October 22, 2013
Dave Mauldin who has spent most of his career in information technology with Texas Instruments and Compaq has made a successful transition to become a House Medic Franchisee in Texas offering Austin residents professional handyman services, home repairs and home improvement services.
Mauldin, who was born and raised in Texas, is now building a team of professional handymen who work on homeowners growing to do lists. Mauldin said, "The need for professional handymen is obvious as our population and our properties age. But when I started looking for a business I didn't even know that a franchise in home repair existed. After I learned more, I knew it was a great fit for me."
The franchise is growing Nationally and the former engineer puts the reason for that down to two things. Mauldin explained, "First reason is the growing market.To do lists just keep getting bigger for busy families.The second reason for the growth is the House Medic professional model.The handymen we hire must be experienced, are insured and screened and then trained to provide excellent customer service. Our customers are then confident that the work performed on their home will be completed to the highest standard."
Everyone seems to have a story about being let down by a contractor or handyman. The House Medic franchisee reckons that's where he comes in. Mauldin continued, "When I found House Medic and began to do my research, I felt all of my skill sets were a great match with the company. The culture in the company is to follow through with what is promised and not to let people down. I knew that if I wanted credibility with my own business I would need that same approach. I would have to earn credibility and the support of my community and neighbors. So when my customers let any of our team into their home to do a job, they know they can trust us to do what we say."
About House Doctors and House Medic:
For more than 15 years, House Doctors and House Medic, a 90-plus-unit professional handyman service, has brought commercial property owners and homeowners high standards of customer service, reliability, and quality workmanship. Every House Doctors and House Medic handyman location is independently owned and operated. Today, House Doctors and House Medic continue to expand throughout the United States by offering franchise opportunities. For more information on House Doctors and House Medic, visit http://www.housedoctors.com or http://www.housemedic.net.