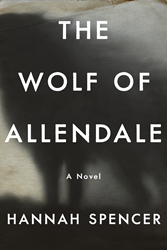 The fates of two wise men from the same village living in different time periods are connected by one mythical creature – and forces they cannot control – in this compelling supernatural tale.
San Francisco, CA (PRWEB) January 17, 2017
In a Druid village in Northumberland, England, Bran, the village leader, must face two dangerous opponents: an otherworldly animal and formidable invaders from the south.
Two thousand years later, at the dawn of the Industrial Age, this sleepy English village once again faces the frightening menace. Something is killing the sheep-and leaving large, mysterious footprints across the countryside. Bert, an old shepherd, is the only villager who understands what is happening. The beast that once terrorized this land, a mythical wolf, has been disturbed for the first time since the Iron Age, and only one weapon can stop it: an ancient ritual that has nearly been lost to time.
Separated by eons, Bran and Bert must battle this fearsome wolf using the sacred practice that has been passed down from generation to generation. Both must face the threat of the mysterious beast and the end of their way of life. Bran's culture is imperiled by Roman conquest. Bert's shepherd life is threatened by the railways and mines that encroach upon his small town.
In The Wolf of Allendale (January 17, 2017; E-Book; ISBN 9780062656735), Hannah Spencer uses the well-known legend of the Wolf of Allendale as a creative lens to examine the clash of progress and tradition and brings to light ancient folklore that is nearly forgotten.
About the Author
Hannah Spencer is the author of The Story of Light (Moon Books, 2014) and numerous short stories that have been published by Cracked Eye, Penny Shorts, Bewildering Stories, Writing Magazine and Writers Forum. Between writing, Spencer works on a dairy sheep farm in Warwickshire, England. Visit her online at hannah-spencer-author.weebly.com.
About HarperLegend
HarperLegend is a new line of eBooks from HarperOne, an imprint of HarperCollins Publishers. We seek to discover and publish authors of visionary and transformational fiction in digital first format. For more information, please visit http://www.harperlegend.com.