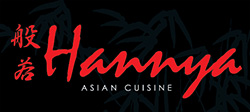 Asian culture and food has to do with balance. Even if one may not be a fan of traditional Asian flavors, balance in a diet is a concept that everyone can benefit from.
Ft Lauderdale, Florida; Miami, Florida (PRWEB) May 28, 2015
Being surrounded by great friends and customers, Hannya Restaurants has had its grand opening, last year in September. Their goal is to continually try to meet and even exceed their customer's food expectations. What they desire is to see people love and enjoy their restaurant, as much as they do.
When it comes to Hannya Restaurants, the entire staff devote themselves to quality and attention to details, providing their customers a memorable dining experience along with their delicious Sushi and other Asian Specials.
The restaurant's decor features exposed brick, low industrial ceilings with funky lighting, gold walls with koi etched into them, and a communal table perfect for imbibing many sake bombs.
Those who don't cook, but want to eat great-tasting and inexpensive food on a daily basis, can enjoy the takeout and delivery (within a two-mile radius) services available at Hannya.
Hannya is the creative work of Larry Chi, an elite South Florida chef as well as a third generation restaurant owner. Chi, has been working with fish in raw form since his early 20s and he has always been in the restaurant industry. A man devoted to his craft, Chi enjoys his work while decapitating tuna and slicing fish into thin pieces. Chi slices them thinner than those at other sushi bars so the whole slice can fit in one's mouth. "A big part of Japanese food, and sushi especially, is texture. Fish is very subtle, so when you have an overwhelming piece of sushi, you can't fully taste everything," Chi says. "The way we started slicing ours over a decade ago allows you to really taste the texture."
If interested to find out more valuable information about the Chef at Hannya, one can visit the About The Chef section of the website and get updated about the one who is responsible for all the delicious Sushi, Sashimi, Hannya Specials and other specific Asian dishes at Hannya Restaurants.
Browse through the Menu section of the website to discover the distinguished Hannya dishes that can transform simple dining experiences into memorable ones.
"Asian culture and food has to do with balance. Even if one may not be a fan of traditional Asian flavors, balance in a diet is a concept that everyone can benefit from" stated the Manager at Hannya Restaurants.
If planning an event one should know that Hannya Restaurants provide catering services that are sure to meet all the dining needs and meet the customer's highest expectations. Regardless of whether it is about a classy, elegant affair, or a more casual picnic style meal, the Hannya Restaurants is sure to make their customer's day memorable and delicious.
Stay up-to-date with exciting details and information about the Asian cuisine, Asian Culture, Sushi, Asian Dining Etiquette and other topics by visiting the Hannya Blog page.
So check out the new website http://www.hannyarestaurants.com and get convinced about the fascinating menu items and great services Hannya offers.
Hannya Restaurants – healthy, delicious food for one's wellness.
About Hannya Restaurants
Hannya is a place where they serve Authentic Asian Cuisine and offer a real traditional Sushi experience. With a broad choice of flavors and dishes, there's something for everyone.
Hannya is more than just a great place to eat. It's an experience one never forgets. A warm welcome from the moment customers enter – whether one is in for a lunch, a big night out, a family dinner, or drinks with friends.
About ke™ Solutions, Inc.
ke™ Solutions, Inc. (http://www.kesolutions.biz) under the leadership of Mr. Lorin Morar, offers rapid website development and design, ensures optimal content performance with the proprietary ke™ engine website software, as well as custom software solutions and search engine optimization. The ke™ engine is a software package of development solutions designed to allow companies to leverage the web by giving them the power to create, update and maintain their own websites. Empower your company's online presence and stay a leap ahead with ke™ Solutions, Inc.