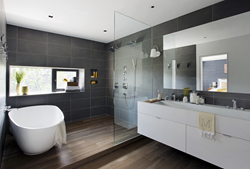 Boston, MA (PRWEB) October 13, 2015
Hansgrohe USA announced the results of its second annual Hansgrohe + Axor Das Design Competition, which attracted outstanding entries from around the country. Open to architects and designers across the U.S., the competition celebrates excellence in design, sustainability, and installation of products from the Hansgrohe and Axor brands in real-world projects. After careful consideration, a jury of media and Hansgrohe representatives selected ZeroEnergy Design's Family Loft project as a Residential Winner.
The jury remarked upon the exceptional overall quality of submissions and the wide range of products specified. Michael Reiman, a Hansgrohe international project consultant, added, "I continue to be impressed by the caliber of the projects submitted. The applicants were incredibly strong this year and I commend all those that entered", said Michael. "Out of all of [the submissions], ZeroEnergy Design really embraced the idea of being energy efficient. Often people think that if it's energy efficient, it's not the best design, but they transcended that completely and it came out beautifully."
The judges panel comprised Michael Reiman and Jennifer Levine of Hansgrohe; Sheila Kim of Architizer; Mallory Szczepanski of Contract; Christine Abbate of Novità Communications, and Paul Makovsky of Metropolis.
According to Stephanie T. Horowitz, ZED managing director, "Functional utility paired with the inherent features of Hansgrohe and Axor brand products make the selection process easy. When searching for a minimalist, modern aesthetic choice (as is typical for ZED), the products are an elegant solution to the 'modern oasis' challenge. Durability is also a key decision factor, and requiring a long term, low maintenance solution means always seeking high quality. Hansgrohe seems to offer collections with all these attributes for all client price points, flexing to each project's unique requirements. Distribution is top notch, as we never encounter long lead times, and the company's environmental position and sustainability commitment are well aligned with ZED's own philosophy. Hansgrohe's WaterSense® certified products offer exceptionally efficient use of water resources while maintaining the comfort and utility ZED clients require. Sustainability is not an optional checkbox at ZED, but rather a deeply ingrained principle that impacts the attributes of every project."
The Hansgrohe + Axor Das Design Competition results are posted online at http://www.DasDesignComp.com
About ZeroEnergy Design: ZeroEnergy Design operates at the intersection of energy and architecture. The firm is committed to innovative and ecologically sensible design and believes technical, financial and aesthetic aspects must be considered holistically. Homes and buildings designed by the firm use at least 50% less energy than code requirements, with project locations throughout New England and beyond.
About Hansgrohe: Hansgrohe is a premium brand for bathroom and kitchen fixtures. A winner of numerous awards throughout the world, Hansgrohe is regarded as one of the leading innovators in technology and design. Founded in 1901 and based in Schiltach in the Black Forest region of Germany, Hansgrohe has a global workforce of about 3,600 employees and serves customers across the globe through 44 subsidiaries and branches.
About the Axor brand: The designer brand of Hansgrohe SE, Axor enables product designers, architects and interior designers develop their vision for the bathroom as a living space. To date, design partners of the Axor brand include Philippe Starck, Antonio Citterio, Jean-Marie Massaud, Patricia Urquiola, Phoenix Design, Ronan & Erwan Bouroullec, Nendo and Front.