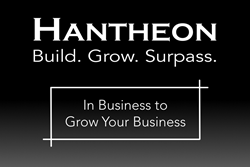 Los Angeles, CA (PRWEB) September 19, 2017
Hantheon, a company that helps businesses grow, announced today that its new podcast series on leadership has surpassed its expectations. The podcast series was launched in response to Hantheon's global client base requesting key insights into growth, leadership and learnings.
To help its clients and others, Hantheon decided to launch a weekly podcast series that is based on interviews of leaders. Jeff Demain, CEO of Hantheon stated, "We are delighted that the response has been so strong. Interviewing leaders in the podcasts nailed what the audience was looking for. And the leaders we have in the podcast pipeline have great stories to share". The podcasts are designed to fit well into the leadership lifestyle by covering 2 to 3 key points in every 10-minute episode.
Hantheon launched the series in August with podcast guests including Tanika Anderson, Founder of You&Mei Label, Christina Heller, CEO Emeritus of VR Playhouse, Alex Greenberg, Co-Founder of Loft Orbital and Stefanie Nissen, CEO of TrvlPorter. Stefanie stated, "My conversation with Jeff was one that had me stop and really think... why am I so fearless in business? Reflecting on the actions that led me to where I am today with Trvl Porter and then sharing them with the listeners was a conversation I hope inspired others to be fearless!" A new podcast will be released by Hantheon each week. Upcoming guests include Pat Gelsinger, CEO of VMWare.
To complement the podcast series, Hantheon also launched a new online dialogue platform called the Discussion Forum. Here people can share ideas, learn about investment opportunities, and make connections. "The combined forces of the podcasts and Discussion Forum help many people across multiple disciplines," said Demain. "That makes us quite happy."
To engage with the podcasts go to http://www.hantheon.com/podcasts.html
To engage in the Discussion Forum go to http://www.hantheon.com/discussion-forum.html
About Hantheon
Hantheon is in business to grow their clients' businesses. They work across a global scale on Strategy, Business Development, Marketing, Product Development, Funding and Connections. Based on client results, Hantheon had a spectacular accomplish of 57% year-over-year growth. For more information please visit http://www.hantheon.com
Contact
To learn more about working with Hantheon, please contact:
Jeff Demain, CEO
http://www.hantheon.com
hello(at)hantheon(dot)com