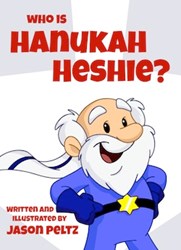 Peltz uses his well-honed and prolific artistic talent to tell the story of Hanukkah in a fun, meaningful, inclusive way that appeals to children, families and people of all faiths.
Winter Garden, FL (PRWEB) December 10, 2013
Every year, as the holiday season approaches, it often seems that the spirit and meaning of it all gets lost or obscured by the rush to buy gifts, and the sparkling abundance of lights and glittery décor. Of course part of the excitement and fun of the holidays is directly connected to shopping and pulling out boxes of decorations that will brighten up the home or office, but it's important to remember that the real magic lives within the stories and traditions that make this time of year special to so many. Jason Peltz, in his new book 'Who is Hanukah Heshie?' uses his well-honed and prolific artistic talent to tell the story of Hanukkah in a fun, meaningful, inclusive way that appeals to children, families and people of all faiths. Peltz is a talented artist who has brought familiar characters to life on the big screen as an animator for Disney, and currently works as a freelance illustrator and sculptor for clients including, among others, Disney/Pixar Publishing.
In large, colorful, illustrated scenes, Hanukah Heshie comes to life. Peltz's character is an older gent dressed in a scholarly cap and gown, and sporting a familiar white beard, friendly smile and twinkly eyes. As the story begins, the silhouette of Santa and his reindeer make a brief appearance and comparisons are made throughout the book to the universal symbolism and gift-giving aspects of the holiday season that are most often aligned with Christian tradition. Hanukah Heshie quickly transforms from his scholarly self to that of a whimsical blue-suited Santa-style character who is accompanied by a short, rhyming tale about the rituals associated with the celebration of Hanukkah.
There is no shortage of images that bring to mind not just the activities of the traditional large man in red, but also the spirit of giving and sharing that exists in many holiday traditions. Peltz shows us Heshie shopping for gifts, traveling by a candlelit Dreidel sleigh, and delivering presents that he leaves by the iconic menorah. The lively, spirited illustrations tell the story of a generous character who is friendly with the mythical elves at the North Pole but who also delivers a message about the history of the Jewish people he represents. "The book is fun and educational at the same time," says Peltz. "It's a great way for Jewish families to laugh and learn, and for non-Jewish families to learn of Jewish traditions and shared heritage."
When bombarded with the inflated commercialism that inevitably comes with the season, it's easy to forget that the holidays encompasses many traditions, and bring with them a universal connectedness to the different faiths that celebrate their heritage this time of year. 'Who is Hanukah Heshie?' bridges some of that divide and offers a better understanding of the meaning of Jewish traditions in a friendly, easy way that will captivate children and allow families to open the dialogue about what Hanukkah really means. "I wrote the book," says Peltz, "to bring the magic of the holidays to Hanukah, and for every family to bring Hanukah Heshie to their home and start a new tradition."
'Who is Hanukah Heshie?' is published in eBook and full-color paperback format by eBookIt.com and is now available at popular online retailers including Amazon.com, Barnesandnoble.com and Apple's iBookstore.
About Jason Peltz
After working in television animation on such projects as Animaniacs and Pinky and the Brain, Jason spent a decade at Walt Disney feature Animation. He worked on such projects as The Lion King, Mulan, Lilo and Stitch, Brother Bear, and The Princess and the Frog- to name a few. He's now working as a full time freelancer- illustrating children's books and sculpting for such clients as Disney/Pixar Publishing, Disney Entertainment Design, Busch Gardens, Premise Entertainment, Big Idea, SPCA, and many others. Some of his recent books include UP, Toy Story 3 and CARS 2.
About eBookIt.com
Since 2010, eBookIt.com (based in Sudbury, Massachusetts) has helped thousands of authors and publishers get their books converted to ebook format, and distributed to all the major ebook retailers, including Amazon.com, Barnesandnoble.com, Apple iBookstore, Kobo, Sony Readerstore, Ingram Digital, and Google eBookstore.
###