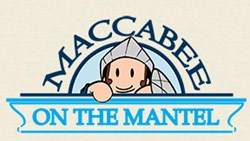 Parents seeking fun, religiously-aligned Hanukkah gift ideas need look no further.
Dallas, TX (PRWEB) November 25, 2013
With Hanukkah right around the corner, parents seeking fun, religiously-aligned Hanukkah gift ideas need look no further. Maccabee on the Mantel, a book and plush toy combo conceived of by Jewish mother Abra Liberman Garrett, provides the perfect gift to keep your child engaged in the spirit of the holiday.
As Garrett's children grew up, they began to notice that there were a lot more celebratory traditions for non-Jewish children. What started as a brief exchange among Jewish friends in interfaith families about what Garrett refers to as, "Christmas Envy," quickly transformed from a cocktail napkin musing to a full-blown product line.
Garrett collaborated with the Fort Worth, TX based comedy troupe Four Day Weekend to provide her kids with their own magical friend. The group brought in Dallas toy entrepreneurs Beaver Raymond and Johnny De La Valdene to help bring the idea from concept into reality.
"I loved being Jewish," explains Garrett. "But I thought it was the coolest thing in the world when I'd go to my friend's house, and they'd have these huge gorgeous trees and such festival. I used to create a whole Winter Wonderland in my walk-in closet that was sort of secret, because I felt like I was missing out a little. The Maccabee on the Mantel is for those kids who feel like they're missing out on the festival that they're friends get."
The book, accompanied by an adorable plush soldier, tells the story of Hanukkah in a way that makes it relatable for children. It is not, however, intended to be a commercialization of the holiday. As a former pre-school teacher at the renown Temple Emanu-El in Dallas, Garrett consulted with a host of rabbis and Jewish educators to ensure the book would provide value on its own, serving as an educational resource for children of any faith.
"I wanted to ensure there were some 'Jewish Culture' elements sprinkled in there as well," explains Garrett. "You will see a little Yiddish here and there, as well as a couple of references to Hanukkah customs and some old school Jewish names. In the back there is a prayer and also a 'traditions section', as it was imperative the book have value in and of itself."
But unlike his Christmas-counterpart, who loses his magic upon the touch of a child, the Maccabee on the Mantel is all about being hugged.
"I learned while teaching little ones that what works from some children does not work for others, so I was careful not to draw rigid parameters about what this doll 'can' or 'cannot' do." Wait until you see this little guy! He is way too cute not to cuddle!"
The Maccabee on the Mantel book and plush doll are available for purchase here. To learn more about the story and its creators, visit the website at MaccabeeontheMantel.com.
Toy Vey! is a Jewish toy design and distribution firm specializing in Hanukkah gifts. Their mission is to empower families to create a joyous custom that ignites a child's excitement about their heritage as well as their desire to learn more about who they are and where they come from through engaging literature and toys. To learn more about Toy Vey! and their backstory, click here.