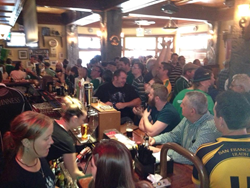 San Francisco, CA (PRWEB) January 28, 2015
It's that time of the year again! This year's big game is sure to bring some exciting plays and touchdowns, a great half-time show and plenty of funny commercials, and the fun place to watch it is at The Chieftain in San Francisco.
The Chieftain is an authentic style Irish pub located at 198 5th Street at the corner of Howard St, San Francisco, CA 94103. Patrons are invited to support their favorite team wearing full colors. The Chieftain will be offering delicious food and drink specials all day on this big final day of the NFL season. Whether guests are rooting for the Seattle Seahawks or the New England Patriots, or neither, they are sure to have a great time while enjoying ice cold beers, appetizer platters and some of the best hot wings in the area.
The Chieftain is a San Francisco premier venue to watch all the best sporting events. The Chieftain Irish pub screens international football, rugby, NFL, NBA, MLB, MLS, NHL, UFC and college sports games. To catch the latest games and to see your favorite teams play, come by The Chieftain and pull up a seat. Click here for all upcoming sporting events.
This Sunday, forget ordering pizza and wings at home with friends. Bring everyone to The Chieftain for a real party. It's the biggest game of the season, and a fantastic place to catch it all is at The Chieftain. For more information, call 415-615-0916.
It's also time to come on down for the 6 Nations Rugby Tournament at The Chieftain Irish Pub! The first games will start at 12:05 p.m. on Feb. 6 when Wales takes on England, with Ireland playing Italy the following morning at 6:30 a.m. Click here for full listings and information on 6 Nations Rugby at The Chieftain Irish Pub!
About the company:
The Chieftain is a uniquely detailed authentic Irish pub, located at 198 5th Street (cross Howard), directly across the street from The InterContinental Hotel. One block from Moscone Convention Center, and a short walk from many of downtown San Francisco's most familiar hotels and attractions, The Chieftain is the perfect place to stop for some fish and chips, a drink or to catch a game. To check out their menu –well-loved by countless San Francisco natives and visitors, visit their website.