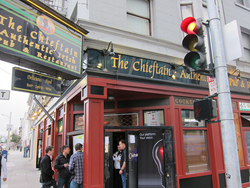 San Francisco, CA (PRWEB) September 19, 2014
The Chieftain is calling all football fans to join them for another exciting season. This fall, the San Francisco pub invites customers to come down and cheer on their favorite NFL team, while also enjoying some delicious food and drinks.
There's no better place in San Francisco to watch fall sporting events than The Chieftain, the city's most authentic Irish pub. Patrons can catch all the best games, including NFL games, international matches, UEFA Champions Soccer League, rugby and college sports. No matter what sport customers prefer, they can find exactly what they want to watch at The Chieftain.
What would sports be without a little refreshment? The Chieftain offers a huge beer selection, with tons of choices on tap. Their menu features some great food options for fans to snack on and enjoy during the games. With daily specials and free Wi-Fi, The Chieftain always knows how to create an exciting and fun atmosphere for customers no matter what they're there for.
Sports fans in San Francisco are sure to find a new home at The Chieftain this fall. The restaurant looks forward to the upcoming season, which is sure to be a great time - whether everyone's favorite teams win or lose!
For more information about The Chieftain, call 415-615-0916 or visit their website to learn about upcoming events and specials.
About the company:
The Chieftain is a uniquely detailed authentic Irish pub, located at 198 5th Street (cross Howard), directly across the street from The InterContinental Hotel. One block from Moscone Convention Center, and a short walk from many of downtown San Francisco's most familiar hotels and attractions, The Chieftain is the perfect place to stop for some fish and chips, a drink or to catch a game. To check out their menu –well-loved by countless San Francisco natives and visitors, visit their website, http://www.thechieftain.com/.