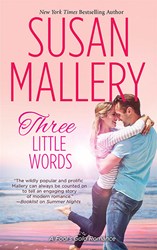 Readers can count on me for a happy ending. Life's too short to read depressing books.
Dallas, TX (PRWEB) August 01, 2013
August is Happiness Happens Month, according to the Secret Society of Happy People on their website, sohp.com. Author Susan Mallery suggests you celebrate by reading a book with a happy ending, such as her latest, Three Little Words, a Fool's Gold romance novel.
"I think it's wonderful that the Secret Society of Happy People and founder Pamela Gail Johnson celebrate – and promulgate – happiness," Mallery says. "Romance readers are some of the happiest people I know. I think it's because romance novels offer a very optimistic world view. We believe that people are fundamentally good, that love is real and can last forever, that the bonds of love and friendship and family make the world a better place.
"Readers can count on me for a happy ending," Mallery adds. "Life's too short to read depressing books."
Three Little Words is anything but depressing. RT Book Reviews Magazine calls it "a dynamite read filled with humor, compassion and sexy sizzle."
Told with Mallery's trademark wit, Three Little Words is the story of a young woman who returns to her hometown to run the family's bridal shop, only to discover that her most embarrassing teenage crush is living right next door. Fifteen years ago, Isabel loved Ford as dramatically as only a teenager can. He was her older sister's fiancée. When her sister cheated on him and he left to join the military, Isabel poured her heart out to him in a series of letters. He never wrote back, but she continued to write, until eventually the letters became more "Dear Diary" than "Dear Ford". Isabel confessed all of her secrets to Ford. Now she's back in her tiny hometown, living next door to a sexy former Navy SEAL who knows far too much about her – including where she lost her virginity (in the back of a truck), with whom (beach bum), and how it was (not great).
For a quick jolt of happiness, visit Mallery's website, http://www.susanmallery.com to read a free excerpt of Three Little Words. The book is available in bookstores across the nation and online in mass market paperback, e-book, and audiobook.
About Susan Mallery:
With more than 25 million books sold worldwide, New York Times bestselling author Susan Mallery is known for creating characters who feel as real as the folks next door, and for putting them into emotional, often funny situations readers recognize from their own lives. Susan's books have made Booklist's Top 10 Romances list in four out of five consecutive years. RT Book Reviews says, "When it comes to heartfelt contemporary romance, Mallery is in a class by herself." With her popular, ongoing Fool's Gold series, Susan has reached new heights on the bestsellers lists and has won the hearts of countless new fans.
Susan grew up in southern California, moved so many times that her friends stopped writing her address in pen, and now has settled in Seattle with her husband and the most delightfully spoiled little dog who ever lived. Visit Susan online at http://www.SusanMallery.com.