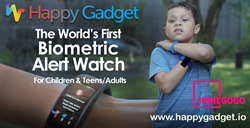 Be there for your children when they need you most
McLean, Virginia (PRWEB) April 24, 2017
The world-class designers of Happy Gadget Alert Watch have announced that they are seeking public support to bring their novel lifesaving device for the everyday use of parents worldwide. It is a lightweight, attractive in appearance, wearable device packed with medical-grade sensors, specially designed to read a child's vital signs, and detect unusual symptoms or physical patterns. This innovative lifesaving device works with a smartphone and helps parents keep track of their child's vital signs at all times. Parents will have the ability to be there for their child at the most crucial times. From monitoring the heart rate/rhythm, blood oxygen level, temperature, sweat level, and motion to the detection of hard-falls and potential child abuse. The watch sensors keeps an eye on everything a child goes through when absent from the sight of his or her parent.
The overall safety of one's children is always paramount for many parents. It is especially worrisome among working parents who have to spend several hours a day away from their children. This problem solving solution will ease the concerns of many parents and will relax them like never before. The Happy Gadget Alert Watch will detect heart rate, heart rhythm, blood oxygen level, sweat, and humidity, skin temperature, sudden motion and hard falls, etc. Then, the watch sends an alert of the child's vital status to parent's smartphone, or any another synchronized other Happy Gadget's devices. With Happy Gadget's Base Station that works as a bluetooth extender and wifi alert transmitter thru router, the alert can be received anywhere instantly. It will prove especially helpful for children with asthma, life threatening allergies, illnesses, as well as other medical and special needs.
Followed by 3 years of successful research and development as well as the production of a successful prototype, the creators are now seeking public support on Indiegogo for the manufacturing of this watch with the goal to raise $100,000 within a month through this crowdfunding campaign. Moreover, it comes with a 100% money back guarantee if it is unable to reach the parents who ordered by December 2017. Generous contributions are welcomed at the following link on Indiegogo and each contribution will have a lucrative reward as well:
https://www.indiegogo.com/projects/happy-gadget-wearable-alert-watch-bluetooth--2#/
About This Project:
Happy Gadget Alert Watch is a lifesaving solution that will ease the concerns of many parents for their children--built by parents for parents. With its state of the art technology, the watch monitors a child's vital signal and, most importantly, alerts parents if any unusual symptoms or physical pattern is detected. This ultimate life saving solution is now raising funds on Indiegogo and generous contributions are being welcomed.
Contact:
Contact Person: Pius Lee
Company: Happy Gadget, Inc.
Address: McLean, VA, USA
Phone: 703-888-8654
Email: support(at)happygadget(dot)io
Website: http://www.happygadget.io