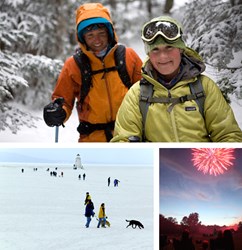 No. 14: Howl in '14 at a dog parade. No. 12: Layer up and run a 5k. No. 9: Watch a fiery street performance. No. 5: Enjoy a beer tasting set to music. No. 2 Dance at Pop Up! LGBT Party.
Montpelier, Vt. (PRWEB) December 18, 2013
See complete events website info here: http://www.vermontvacation.com/about-vermont/vermont-press-room/new-years-eve-in-vermont-dec-2013.aspx
The Green Mountain State is host to traditional New Year's Eve festivals full of fireworks, torchlight parades and fanfare, but there's also an array of unconventional celebrations for Auld Lang Syne partiers, as well as those seeking decadent dining or sports competition. From VermontVacation.com, here's Vermont's 14 Events to Ring in '14:
14. New Year's Dog Parade: Howl in the New Year with your very best canine friend! Join Sugarbush Resort for its Fourth Annual Dog Parade and costume contest led by President Win Smith and dogs Rumble and Zoe. Supports PAWSitive Pantry.
13. The Logger's Variety Show Special: Featuring Rusty DeWees and troupe, with dump truck loads of Vermont grade-A flavor, this show is a smooth-paced line-up of comedy and music acts that harkens back to the days when families sat around the television enjoying an evening of entertainment … together. Rated SC for "some cussin'."
12. New Year's Eve Road Race: Ring in the New Year? How about…Run in the New Year! This festive 5K race is in Vermont's capital, Montpelier, where there's also a chili-cook-off and other novel New Year's Eve celebrations early in the day.
11. Dinner & 'Sweet Ending Dessert Bar' at Mountaintop: Visit Mountaintop Inn & Resort's for one sweet evening! Start with a two course dinner in the Highlands Dining Room & Tavern, followed by a "Sweet Ending to 2013 Dessert Bar" and dancing in The Barn. Watch the New Year's Eve ball drop in Times Square on the big screen or step outside to look out at the stars over the snowy mountains.
10. A Peaceful Philo Snowshoe: Grab warm clothes and winter gear to snowshoe up Mountain Philo! Few outings are as romantic as a thermos of hot cider, maple crème cookies and watching the stars above, the glittering lights and lake below, and if timed right, fireworks over Burlington.
9. Contra Dance & Countdown to '14: Move to tunes by Cuckoo's Nest and calling by Ruth Sylvester. Beginners can arrive early for an introductory lesson at 7:45 p.m. and the dance begins at 8 p.m. at Tracy Hall in Norwich. Please bring potluck finger foods and festive attire is encouraged! No partner is necessary, but clean shoes are a must! Contact Rick Barrows at rbarrows@cs.dartmouth.edu.
8. Caviar & Champagne at New England Culinary Institute: NECI starts the evening with a champagne and caviar reception followed by a six-course dinner with wine pairings and hand-crafted desserts. See the Full Menu.
7. First Night St. Johnsbury: Witness 220 entertainers across 18 performance spaces during the 21st annual First Night. Special features throughout the evening will once again include Dancing Djinn with their fiery street entertainment, and sky lanterns after the Family Fun Fair, planetarium shows at the Fairbanks Museum, a free pancake supper, ball raising and fireworks at midnight.
6. Midnight Arrives Early at Okemo: Okemo Mountain Resort turns New Year's Eve into a family celebration by moving midnight forward – allowing families with young children to ring in the New Year at a reasonable hour, 5-9 p.m. with bingo, dancing, wagon rides, a comedy show and trivia tournament.
5. New Year's Eve Benefit Party with the Bruce Marshall Band: Join revelers at Crop Bistro & Brewery for a night of dining and an outstanding performance by the famed Bruce Marshall Band. A portion of the ticket proceeds will benefit the Friends of Stowe Adaptive Sports.
4. First Night Burlington: Vermont's largest, single-day arts festival, providing more than 100 performances and activities at 20 venues. Fun for all ages, Burlington was the fifth city in the world to embrace the First Night concept; its annual showcase of world-class entertainers and festive crowds is a sight to see!
3. Dinner and Cabaret: At historic Middlebury Inn, welcome in 2014 with style. Start with a reception, then move on to a sumptuous dinner with wine included, and an elegant dinner-theater cabaret around 9 p.m., featuring great love songs from Broadway and the great American songbook. Starring three of Town Hall Theater's most talented performers: Kim Anderson, Justin Bouvier and Leigh Guptill.
2. Pop-Up! New Queer's Eve Dance Party: Ring in the New year with Pop-Up! Queer Dance Party at the Higher Ground in Burlington. Evening hosts to this sellout event are DJ Llu and Chopper, with drag and go-go performers taking the stage all night. Pop-Up! A Queer Dance Party is about dancing, playing bingo, and gathering together for fun events for the whole LGBTQ community.
1. Stay Classy, Vermont: Manchester Music Festival: Join the Manchester Festival Ensemble to "Sing" in the New Year! The family concert at 4:00 p.m. features a visit from Father Time and popular standards for all to enjoy. At the 6:00 p.m concert, the Manchester Music Festival Ensemble features the music of Bach, Piazzolla and more. Celebrate classical music with bubbly, chocolates and more festivities post-concert.
From the Vermont Tourism team, Happy New Year!