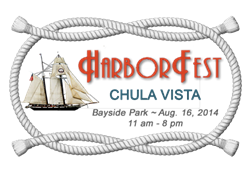 Chula Vista, Calif. (PRWEB) August 08, 2014
HarborFest returns to San Diego Bay in Chula Vista on Saturday, August 16, from 11 a.m. to 8 p.m. This free, family festival will be held in Bayside Park (foot of J Street) and features something for everyone. Check out the live music, engaging educational and interactive exhibits, exciting harbor activities, unique automobiles and wooden boats, beautiful art displays, a SeafoodFest, and a Beer, Baja Wine & Spirits Garden. Tour historic seafaring vessels and view the exotic cars and artwork. Try paddle boarding, kayaking, fishing, or ride the Amphibious Seal bus and see the bay.
Along with a variety of food vendors, a SeafoodFest and Beer, Baja Wine & Spirits garden will feature a unique variety of flavorful wines and one-of-a-kind craft beers and spirits. Seafood lovers can sample succulent morsels of lobster, shrimp, crab and more, as well as watch cooking demonstrations from popular chefs, including SeafoodFest Chair Flor Franco. Go to CVHarborFest.com to purchase advanced tickes for the tasting garden - $20 online or $25 at the door.
Head over to one of the entertainment stages and hear some of San Diego's favorite bands including Agua Dulce, Sure Fire Soul Ensemble, Calphonics, and Todo Mundo, or watch community acts including a variety of dancers on the community stage.
Kids will enjoy the Youth Zone, sponsored by SeaWorld Aquatica, with its inflatable zone, arts and crafts, BMX riders and music. They can also learn about exotic reptiles and different sea creatures at the exhibit sponsored by the Living Coast Discovery Center.
For more information, visit CVHarborFest.com.