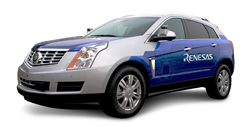 "This platform can speed the rollout of autonomous cars by years."
Orange County, CA (PRWEB) October 12, 2015
Harbrick Technologies, Idaho-based maker of the PolySync autonomous vehicle operating system, and Renesas Electronics America, global supplier of advanced semiconductors, have teamed up to create a fleet of advanced, autonomous-capable vehicles, providing the automotive ecosystem with real-world collaboration and testing environments to help drive future innovation. The vehicles will be available for test rides at the upcoming Renesas DevCon 2015, where they will highlight technologies for sensor fusion, 3D surround view, V2X, and mobile apps integration.
The SUVs, built to showcase the companies' cutting-edge autonomous vehicle platforms, are outfitted with eight LiDAR systems, five radar systems, six GPS receivers, several cameras, motion sensors, and Vehicle to Vehicle (V2V) and Vehicle to Infrastructure (V2I) Communications technology, running on Harbrick's PolySync autonomous vehicle operating system and powered by Renesas' R-Car H2 SoC (System-on-Chip). "What we've created is a platform for rapidly developing safe autonomous vehicles using a wide array of high-bandwidth sensors," says Harbrick CEO, Josh Hartung. "It's the combination of Renesas' powerful R-Car H2 SoC and PolySync's flexible environment that allows for real sensor fusion."
The rapid development of the demonstration vehicles, from dealer new to autonomous capable in just three months, also demonstrates the power of PolySync to dramatically reduce complexity and shorten time to market. "PolySync lets automakers focus on the algorithms that make these vehicles able to drive themselves, leaving the "nuts-and-bolts" to us." says Mr. Hartung. "This platform can speed the rollout of autonomous cars by years."
PolySync is an advanced autonomous operating system designed to help developers build, test, and deploy automated vehicle applications quickly. PolySync applications are developed similarly to mobile applications on iOS or Android, by calling a set of well-defined and standardized APIs. PolySync handles the back end infrastructure so developers can focus on building algorithms.
"We worked with Harbrick for CES (Consumer Electronics Show) 2015," said Amrit Vivekanand, Vice President of the Automotive Business Unit at Renesas Electronics America. "We saw first-hand how PolySync is optimized for fast and versatile development, and we knew how well PolySync would showcase the modularity, high performance computing and resilience of the R-Car H2 development boards - within a fraction of the time."
About Harbrick Technologies:
Harbrick Technologies is the maker of PolySync, the advanced plug-and-play operating system for autonomous vehicles. PolySync is a software platform specially made to help developers build, test, and deploy automated vehicle applications quickly.