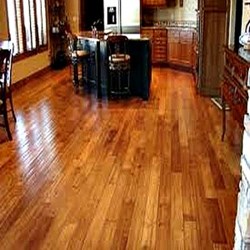 Introducing the Most Professional, Affordable Hard Wood Floor Refinishing Services Available in the Milwaukee Area, Courtesy of Royal Wood Floors
Milwaukee, WI (PRWEB) February 01, 2014
The most affordable, high quality hard wood floor refinishing is now available to the Milwaukee area, thanks to Royal Wood Floors, a leading provider in all things wood flooring.
Refinishing is a complex and detail oriented process, one that should be done by an experienced professional to avoid damage, "When a thorough cleaning no longer restores the shine, it may be time to think about refinishing your hardwood floor. Other signs that you may need to refinish include deep scratches that cut through to the floor's protective coating, stubborn stains, warping or areas where the protective coating is worn away, exposing wood fibers. Refinishing hardwood floors is a dirty and time-consuming process, which typically takes at least three days. While you can do the work yourself, consider hiring a professional refinisher," Armstrong Flooring advises.
Experienced hard wood floor installers know the many nuances of refinishing, making it possible to return the floor to its original beauty. The process requires a lot of attention and a steady hand to get the right results. Too often, DIY jobs cause more harm, as a result, damaged areas must be replaced, which increases the expense of the job. This can especially be true when dealing with hard wood medallion inlays.
Caring for Hardwood Floors
When properly cared for, hardwood can last generation after generation. It's recommended to sweep on a regular basis, keeping the wood clean. In addition, attend to any spills immediately to avoid discoloration.
The company warns against using harsh chemical cleaning agents, as these can easily cause damage to the floor that might not be reversible.
Professional Advice from Royal Wood Floors
This Milwaukee hard wood flooring specialist suggests homeowners and commercial property owners try to keep humidity levels steady, reducing the amount of moisture in the air. This not only helps to increase periods between refinishing, but preserves the floor, saving it from warping.
For more information about these experienced and professional hard wood floor refinishing services, or to speak with hard wood floor installers, or learn about custom wood styles or the company's inlay and hard wood medallion installation services, phone Keith Allman at 414-378-2066. Estimates and appointments can be made through the company's website, RoyalWoodFloor.com. The company provides top craftsmanship and cares for many types of custom and domestic wood.