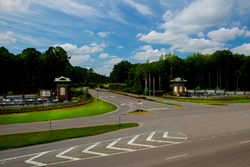 Hardeeville, SC (PRWEB) August 04, 2015
A dream commercial real estate investment opportunity has become available to developers looking to build near the busy tourist destination of Hilton Head Island, South Carolina. The land is a 72.06-acre (per assessor) Planned Development District -- 12.32 acres (per appraiser) of the property are in the flood plain or flood plain setbacks -- located between two residential neighborhoods at Hilton Head Lakes; it's positioned just minutes from the interstate and is a lakefront and golf community, too.
The official address of the property is 72.06 Acres Lakeside Blvd in Hardeeville, South Carolina (zip: 29927). Hardeeville, is just 29 miles from Beaufort, 22 miles from Hilton Head Island, and 16.5 miles from Savannah, Georgia. With Beaufort and Savannah's industry close by and Hilton Head Island's tourist attractions a short drive away, as well, Hardeeville is the perfect town to build houses that will attract high-income families. (The Census estimates that Hardeeville is the fastest-growing municipality in South Carolina; it grew an estimated 53.4 percent from 2010 to 2014.)
Micoley.com founder and CEO Wade T. Micoley has been protective of this particular property and is eager to see what eventually becomes of it: "I must admit this one is a favorite of mine. Hilton Head Island is a beautiful place and the geographical positioning of the businesses that will eventually be built on this property will allow its owners and tenants tremendous flexibility as far as finding work in the nearby cities and exploring the area's wonderful entertainment options."
The property is listed at $4,450,000 with an opening bid of $2,450,000 if no offer is received before the August 29 auction.
The highly motivated sellers of this property have indicated that they plan to entertain early bids and offers. Buyers are most likely already researching this property, and coming to decisions about whether to make a purchase, so potential buyers are advised to act fast.
Interested parties should visit micoley.com to find more photos and details about the property, or visit in person and perform an inspection on site, which is highly recommended. (866) 371-3619 is Micoley.com's information line. Additionally, Micoley.com features a live chat service through which questions can be answered.
About Micoley.com:
Green Bay, Wisconsin-based Micoley.com is a real estate marketing firm specializing in project focused auctions and sales events of bank-owned and traditionally listed Real Estate throughout the United States. The Micoley.com approach to Real Estate marketing tailors each auction plan to the client's individual needs. The site is constantly being updated for the benefit of buyers, as large-scale auction events are held quarterly, and new properties are added daily.