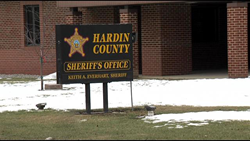 After years of dealing with pieces and parts that didn't work together, this is great.
Kenton, OH (PRWEB) March 31, 2015
Public Safety agencies across the country are being tasked with updating their infrastructure to accommodate for the latest advancements in technology. This nationwide movement is known as Next Generation 9-1-1 (NG9-1-1) and will require emergency call-taking agencies to offer the capability of receiving texts, images, and videos sent to "9-1-1" as well as operate on a call-handling system with 99.999% uptime, meaning the system is required to have less than two minutes of "downtime" per year.
Hardin County, Ohio, located in the northwestern part of the state, covers 471 square miles and has a population of just over 31,600 residents. With a large amount of rural area to cover where wireless signals are oftentimes weak, Public Safety Answering Points, or PSAPs, like Hardin County Sheriff's Office need a high-performance call handling system to be able to quickly receive emergency calls and dispatch first responders without interruption or interference. Sheriff Keith Everhart is taking strides to put the Hardin County Sheriff's Office at the forefront of this new technology by revolutionizing the county's dispatch center. Over the past year, he has replaced both the dispatch software and the call handling solution with a new, state-of-the-art system for call takers in the dispatch center.
With new Computer-Aided Dispatch (CAD) software and a high-availability call handling solution, both of which utilize the latest in database and telecom technologies, Hardin County Sheriff's Office can now provide citizens in need with the fastest, most dependable emergency services when they call 9-1-1. Soon, citizens will also have the ability to send a text to 9-1-1. Wherever text-to-911 is available, citizens should still make a voice call to 9-1-1 if possible, but there are situations in which texting is a safer alternative. Agencies that currently receive text messages sent to 9-1-1 have stated that reports of child abuse, spousal abuse, other acts of domestic violence, and drug sales make up the vast majority of the cases. For citizens that want to find out if text-to-911 is available in their area, they can either contact their wireless phone company or ask their state legislators or public safety officials if the local 9-1-1 center is prepared to accept text-to-911 messages.
For Hardin County, the company chosen to provide the new, NG9-1-1-ready CAD software, Civica CMI, located in Englewood, Ohio, was partnered with Experient Corporation, a company out of Denver, Colorado, that provides Next Generation 9-1-1-compliant call-handling solutions. Experient's high-availability system, which is scalable in design to suit even small and medium-sized PSAPs, was a perfect fit. In the company's 12-year history, not a single one of their systems installed in numerous states across the country has gone down.
With the two companies being industry partners, the solution provided is fully-integrated, which saves dispatchers time by taking all the information in the call-handling system and seamlessly transferring it to the computer-aided dispatch software instead of it having to be completely re-typed before creating the call-for-service. If a caller is on the move, the system continuously recalculates the position, so cases in which a kidnapped victim is able to place a call for help from the kidnapper's vehicle, responders are able to track the current location and not just the spot from where the call was made.
As of February 17, 2015, thanks to the hard work and innovative efforts of Sheriff Keith Everhart in teaming up with two industry leaders in Civica CMI and Experient, when more capabilities become available through advancements in Next Generation 9-1-1, Hardin County Sheriff's Office will be able to take advantage of them and pass the benefits on to its citizens. A society that is becoming ever more dependent on smart phones and other new technologies needs public services that allow them to utilize these tools. For Hardin County residents, that time has come.