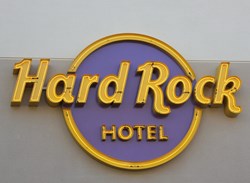 This opening has been long anticipated by the entire valley and certainly all of the country as well.
Palm Springs, CA (PRWEB) October 29, 2013
Brad Schmett, Broker Associate with Luxury Homes by Keller Williams today announced that the November lineup for The Edge Series is one of the hottest tickets in town and expected to bring in record numbers of luxury home shoppers and real estate investors. Palm Springs based Troupe Productions has pulled out all the stops to create a series of shows that will keep fans coming back for more month after month.
Schmett spoke about the recent and long awaited opening of the Hard Rock Palm Springs: "This opening has been long anticipated by the entire valley and certainly all of the country as well. People who love Palm Springs and the Hard Rock will now be able to enjoy both at the same time. With the latest announcement of The Edge Series which encompasses several of the most sizzling shows this side of Las Vegas we expect to have one of our busiest real estate seasons ever. Everyone in the valley is talking about the Hard Rock."
The November series "Top Rock" features the music of such icons as Aerosmith, The Beatles, Guns and Roses and plenty more accompanied by the most stunning dancers and gifted singers in the business. In December, "Hard Rock Holiday" will make it a genuine Rock n Roll Christmas for delighted fans as the Hard Rock proves it has no competition when it comes to doing the Jingle Bell Rock.
The new hotel at 150 S. Indian Canyon in the heart of downtown Palm Springs is already booking up for the holiday season as visitors make plans to spend The Season under the palm trees and moonlight of the gorgeous Coachella Valley. Tickets may be purchased online as well as hotel reservations but advance planning is a must to avoid being disappointed by a sellout.
For more information on the Hard Rock Hotel The Edge Series visit http://theedgepalmsprings.com/index2.html.
To find out more about investing in Palm Springs, CA real estate visit http://www.palmspringsrealestateinfo.com.
About Luxury Homes by Keller Williams: Luxury Homes by Keller Williams – Palm Springs, is an exclusive, elite and sophisticated group of real estate consultants raising the bar for service in the upper-tier Palm Springs area residential real estate market.