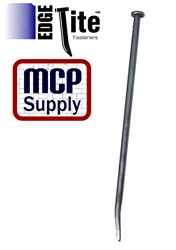 The spike that works.
Lewisberry, Pa (PRWEB) October 21, 2013
Challenges against normal use and the wear and tear of nature's forces exist in every industry, and the Hardscape and Landscape industry is no exception. To combat these issues, Professionals and DIY attack every project with the best equipment on the market with hopes of perfect results.
If everyone is going to be honest however, installers know that having the best equipment is no substitute for using ineffective materials. The 10 inch spike, widely accepted throughout the Hardscape and Landscape industry, is more than a simple accessory to the project and truly necessary in keeping those beautiful finished results in place. MCP Supply and EdgeTite™ customers have repeatedly mentioned the increased retention benefits in the use of this product. Some testimonials can be found on the EdgeTite™ website.
Now that the EdgeTite™ Spike is available, project installers across many industries no long have to simply accept the "lesser of evils" in using materials they know won't keep their hard applied workmanship in place. Projects involving; Hardscape Walkways and Patios, Asphalt and Concrete applications, should all be utilizing this successful EdgeTite™ 10 inch Spike.
Both companies invite you to stop by booth 2155 and learn more about this and other products available.
To learn more about the this spike, watch the video here http://www.youtube.com/watch?v=KD3vG_sasg4 or visit http://www.mcpsupply.com and http://www.edgetite.com.
Media Contact
Michael Pastal
717-440-1680
mpastal(at)mcpsupply(dot)com