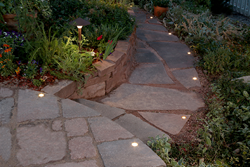 PAVERDOT™s were not only easy to install but created an awesome outline for my garden path.
Denver, CO (PRWEB) February 15, 2016
When walking through the path of life at night there seems to be one thing missing, light. Sure, through the ages fire has been used to light the way, bread crumbs have been dropped as a way to find a path back home, people have even gone the way of Malibu to make walking the path a little brighter. But putting a light into a stone, a brick, a paver, how about concrete. Are you kidding? Not anymore. The all new PaverDot™ LED lights by DEKOR® adds light to any pathway, wall, stairs or anywhere a light needs to be added, in materials never before thought could be illuminated.
PaverDot™'s are completely waterproof, are simple to install and add ambiance, safety and security to any DIY hardscape or landscape project. Outline a driveway, define an edge or landscape border, mark a pathway, no matter what the material is a light can be added. Flagstone, pavers, concrete, bricks, timbers can now have a light added to them. With the simple Plug and Play installation developed by DEKOR® Lighting, simply drill a hole into the material, embed the sleeve, and pop in the light.
Hardscape Depot chose the PaverDot™ from DEKOR® because of the quality and craftsmanship offered on all DEKOR® products. DEKOR® Lighting has been in the business of designing and manufacturing innovative LED lighting products for over 14 years and has the best warranty in the industry. Their LEDs are manufactured in Denver, CO along with all the other components and are also assembled, tested and shipped from the Rocky Mountain state. DEKOR® Lighting truly is "Made in the USA".
Hardscape Depot is the exclusive distributor of this amazing little light from DEKOR® and offers the PaverDot™ in a number of convenient kits. These dimmable 12V LED lights take very little power to operate and Hardscape Depot has all of the accessories and transformers to handle any size project. The polycarbonate lens are strong enough to be driven over or walked on and come with a 5 year warranty. Hardscape Depot even offers the Drill bit and 2 speed motor designed specifically for the PaverDot™ installation.
A yard or patio can be transformed from typical to stupendous by adding lights to the hardscape. In the past only illuminated pavers or artificial stone lights that were prefabricated were available. With PaverDot™ adding light to a design and embedding the light into any type of material is now a reality. Pavers, flagstone, brick and concrete can all be part of the new Illuminated Stone Age.
ABOUT Hardscape Depot
Hardscape Depot was started to provide quality hardscape, landscape and outdoor lighting products, from the new PAVERDOT™, which can be embedded in concrete, stone or pavers, to tools, edging and accessories that make any hardscape of landscape project complete. One stop shopping for all a customer's needs when it comes to working on the yard. Adhesives that work in wet or cold environments and even custom powder coated aluminum edging. Contact: sales(at)hardscapedepot(dot)com or visit us on the web,http://www.hardscapedepot.com.