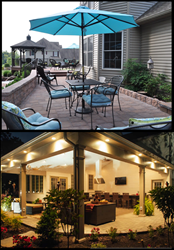 EWBN, experts in hardscaping, will be at the York Fair from September 5, 2014 until September 14, 2014.
Leola, PA (PRWEB) September 03, 2014
Eagle Wings Business Network, hardscape contractors that serve the Philadelphia and Central Pennsylvania regions, announce their involvement in the York Fair from September 5th – 14th. The fair is located at the York Expo Center on 334 Carlisle Avenue, York, PA 17404.
Reuben Stoltzfus, owner of EWBN, and his contracting team dedicate their careers to building indoor and outdoor living structures for families and businesses. Customers have stated they are the best in the industry.
EWBN offer clients an array of services which include – hardscaping, patios, decks, roofs over patios and decks, pergolas and pavilions, outdoor kitchens, landscaping, basements and outdoor fireplaces and fire pits. This year, at the York Fair, EWBN announces that they will have a large booth with displays of a patio, deck, outdoor kitchen, fencing, pavilion, pergola and landscaping. This booth will be located inside at Memorial Hall.
Eagles Wings Business Network has more than 30 years of specialized landscaping experience and close to 25 years of experience in the construction industry. Reuben Stoltzfus, owner of EWBN, along with his family have dedicated their careers to building any style indoor and outdoor living structures and facilities. EWBN will help unlock the potential of the clients' property by transforming regular spaces into fun and exciting places to relax and unwind with family and friends. EWBN specializes in patios, walkways, landscapes, hardscaping, decks and deck roofing, home additions, maintenance services and more.
For more information about Eagle Wings Business Network's services and to view pictures of the work done by Reuben and his contracting team, please visit: http://www.ewbn.net
Media Contact
Reuben Stoltzfus
info(at)ewbn(dot)net
717-556-0741