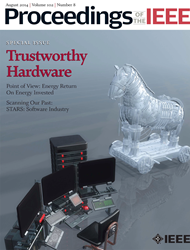 This special issues of Proceedings of the IEEE is a handbook on cybersecurity. It explores everything from state-of-the-art Trojan attacks to the latest in counterfeiting technologies.
Piscataway, N.J. (PRWEB) September 15, 2014
The foundation of security in computing lies within the hardware. In its most recent special issue, the Proceedings of the IEEE explores hardware security advances, threats, counterfeiting detection and more.
Inside the open access issue, readers will find information about developments in trustworthy, state-of-the-art integrated circuits (IC) and systems. Several aspects of IC and system security such as theoretical and conceptual foundations, synthesis, testing and verification, modeling and optimization, and case studies are covered. It also explains novel hardware security primitives, such as physical unclonable functions (PUFs), public PUFs (PPUFs) and random number generators. And it presents designs for trust techniques such as IC watermarking, fingerprinting, obfuscation, split manufacturing and more.
In addition, this open access issue contains papers on the following:

Physical-disorder-based security, security analysis and implementation of choices
Time-bounded or public PUFs, including their design and security evaluation and the new
protocols they can support

Case studies on possible threats to embedded systems
The trustworthiness of medical devices and body area networks
State-of-the-art Trojan attacks, modeling, and countermeasures
The latest in counterfeiting and detection technologies
Regaining trust in VLSI design
Hardware security threat models, metrics and remedies
Two guest editors produced the special issue. Ramesh Karri is a professor of electrical and computer engineering at the Polytechnic School of Engineering, New York University, in Brooklyn, New York. He is the area director for cyber security with the New York State Center for Advanced Telecommunications Technologies at NYU-Poly; hardware security lead with the Center for Research in Interdisciplinary Studies in Security and Privacy; cofounder of the Trust-Hub; and organizer of the annual Embedded Systems Security Challenge (http://esc.isis.poly.edu) at NYU. Karri received his Ph.D. in computer science from the University of California, San Diego. Farinaz Koushanfar is an associate professor of electrical and computer engineering (ECE) at Rice University, in Houston, Texas, and is director of the Adaptive Computing and Embedded Systems (ACES) Laboratory. She received her BS in electrical engineering from Sharif University of Technology, Tehran, Iran; her MS from the University of California, Los Angeles (UCLA); and her MA in statistics and her Ph.D. in electrical engineering from the University of California, Berkeley.
About the Proceedings of the IEEE
Founded in 1912 and first published in early 1913, (originally as Proceedings of the IRE), Proceedings of the IEEE is the most highly cited general interest journal in electrical engineering and computer science. This journal provides the most in-depth tutorial and review coverage of the technical developments that shape our world, enlisting the help of guest editors and authors from the best research facilities, leading edge corporations and universities around the world. For more information on Proceedings of the IEEE and the latest ideas and innovative technologies, visit http://www.ieee.org/proceedings.
About IEEE
IEEE, the world's largest technical professional association, is dedicated to advancing technology for the benefit of humanity. Through its highly cited publications, conferences, technology standards and professional and educational activities, IEEE is the trusted voice on a wide variety of areas ranging from aerospace systems, computers and telecommunications to biomedical engineering, electric power and consumer electronics. Learn more at http://www.ieee.org.