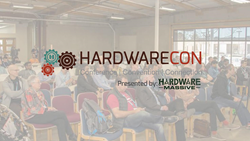 Hardware startups are on the rise around the world. "The Future of Hardware" focus is intended to help these growing numbers of entrepreneurs understand all of the opportunities that the future will bring. - Greg Fisher, Co-Founder of HardwareCon
San Leandro, CA (PRWEB) February 24, 2016
HardwareCon, the annual gathering for hardware start-ups and entrepreneurs, presented by Hardware Massive, has announced an invite-only session on Saturday March 5th at 12 noon to showcase and demonstrate the new product from Women and Couples Wellness – the "hi™" massage and relaxation device. Originally developed as a medical device for women with cervical and uterine adhesion problems that can be caused by C-sections, infections or other surgeries, the "hi™" device was found to have side-effects that caused the device and company to be drawn into controversial markets and waters.
HardwareCon has announced the theme for its annual conference is "The Future of Hardware." Top line sponsors include Panasonic and the City of San Leandro's Office of Innovation. The event will take place on March 4th and 5th at the Zero NET Energy (NZE) Center in San Leandro, CA.
"Hardware, as an industry, has undergone tremendous shifts and growth in the past few years. It's easier to get started, cheaper to make prototypes and products, and components and funding are easier to get as well, " said Greg Fisher, co-founder of HardwareCon and CEO of Berkeley Sourcing Group, an outsourced manufacturing firm that has reviewed over 700 products in the past 10 years. "Hardware startups are on the rise around the world. The Future of Hardware focus of this year's event is intended to help these growing numbers of entrepreneurs understand all of the opportunities that the future will bring and also to reinforce the basics that will be so important as competition rises: design, marketing, strategy, and distribution. That's what we're offering in HardwareCon – a two-day hands-on experience that gives entrepreneurs all of the tools they need to grow great hardware and product businesses."
Steve McGough, DHS, is an inventor and former tech executive with a degree in biochemistry. His first independent medical device product was a "TremWatch" for patients with familial tremor, Parkinson's and related neurological diseases. His development of the "hi™" device was accidental – a husband trying to help his wife. After 5 years of trying to get pregnant, the miracle finally occurred for Steve and Wendy McGough. Tragically, in the last few months of the pregnancy Wendy was exposed to an antibiotic resistant bacteria. Complications forced her to have an emergency C-section, resulting in the loss of their child and a long term and painful recovery for Wendy. Steve researched everything he could think of that might help, and finally came up with an abdominal massage technique that reduced her pain. But it wasn't easy to do, especially to maintain the vigorous massage for 5-10 minutes continuously. So he started looking for massage devices that might help. Nothing did what was needed, so he worked on designing something that could mimic the technique. After a year of designing and building units he found something that worked well.
"The device I created worked and worked well," said Steve, now head of R&D for Human Innovations, LLC, the company originally behind the "hi™" device. "It had this unexpected side effect though that the women who volunteered to test it kept having orgasms… through their clothing… just by holding the device over their abdomen and pelvis." Original investors wanted Steve to eliminate the side-effect, especially in light of the company HQ being in America's Bible belt in North Carolina. But Steve persisted and gathered women's health and advocacy groups and is on schedule to release the first run of the product this summer 2016.
The product "hi™" addresses multiple women's wellness markets. It has been reported to help women relax when dealing with a variety of challenges, including the aforementioned adhesions, PMS related cramping, pain and migraines, as well as other menopausal issues. It's also reported to provide an effective full body massage for women and men. Industry experts are touting it as one of the biggest advances in women's wellness in the 21st century.
In the exclusive breakout session at HardwareCon, Steve will present the product, his story of building and finding markets for the product and the challenges he faced. "hi™" will be demonstrated by women volunteers in an invitation-only breakout session. This session reviews the technology behind "hi™", and addresses the challenges of releasing a highly disruptive technology that spans multiple markets.
"Women's sexuality and health issues are still taboo in some circles and cultures," said Maya Zuckerman, an organizer of the HardwareCon event and founder of TransmediaSF. "We wanted to showcase Steve's amazing story of creating the "hi™" device, but also wanted to be sensitive to the women demonstrators and to provide the decorum and respect this health and wellness device deserves. HardwareCon offers a progressive environment where we want to showcase Steve's efforts and celebrate the success that Steve has had in not only bringing a new hardware product to market – but in tackling taboos and challenging outdated social mores."
The breakout session will take place at the HardwareCon event on March 5th at 12 noon.
To receive an invite to the closed-door session, contact hardwarecon[at]gmail.com with your name, affiliation and request.
#####
Event Details:
HardwareCon 2016 - http://www.hardwarecon.com
March 4 - Hardware U
March 5th - Main Event
Location: ZNE Center - 14600 Catalina Street, San Leandro, CA 94577
About Women's and Couples Wellness, LLC:
Women and Couples Wellness, LLC develops new ways to revolutionize your life. Our products combine technologies in massage, relaxation and wellness, with interactive web-based training.
Our first product "hi™" addresses multiple women's wellness markets. "hi™" is a paradigm-changing massage system that's used fully clothed. It quickly helps women relax when dealing with a variety of challenges, including: PMS-related cramping, pain and migraines, as well as certain menopausal issues. It also provides an amazingly effective full body massage for women and men. Many industry experts are considering it one of the biggest advances in women's wellness in the 21st century.
The core product will be released summer 2016. The next release will integrate with phone apps and a variety of other devices, including EEG headbands for responsive feedback and control. http://womenandcouples.com
About Our Sponsors:
Jabil is an electronic product solutions company providing comprehensive electronics design, production and product management services to global electronics and technology companies. Offering complete product supply chain management from facilities in 28 countries, Jabil provides comprehensive, individualized-focused solutions to customers in a broad range of industries. Jabil common stock is traded on the New York Stock Exchange under the symbol, "JBL". Further information is available on Jabil's website: http://www.jabil.com/
Highway1, a division of PCH, is the premier hardware startup accelerator. We look for great hardware startups, with an exciting business idea and a compelling prototype. We help you design products that deliver real value to customers, that are delightful to use and that can be manufactured at scale. http://highway1.io
City of San Leandro - One of the most diverse cities in the nation located at the center of the dynamic San Francisco Bay Area, San Leandro is a safe, vibrant community of 87,000 residents with well-maintained neighborhoods, excellent public libraries, twenty-one public parks, quality local schools, and a wide range of shopping, dining, and entertainment options. The western border of the city consists of over eight miles of pristine shoreline and amenities on San Francisco Bay while a regional park and nature areas fall on the eastern border of San Leandro. San Leandro businesses enjoy multiple advantages including close proximity to the Oakland International Airport and Port of Oakland, two major freeways, two BART stations, and access to a large and well-educated workforce. Through a public-private partnership known as Lit San Leandro (http://www.LitSanLeandro.com), a fiber optic network circles San Leandro's industrial and commercial core offering businesses virtually unlimited internet connectivity.
Visit http://www.sanleandro.org to learn more about San Leandro. To receive City press releases, meeting agendas or other notifications by email, sign up at http://www.sanleandro.org/portal.
Berkeley Sourcing Group is an international sourcing partner to hardware start-ups and established businesses who wish to take advantage of China-based manufacturing. We connect our clients to our qualified factories and manage the process from their first product to the millionth and beyond. With over 10 years of experience in China and outsourced manufacturing, we manage cultural and language issues, quality control, engineering and local support – so you can concentrate on product design and building your business.
Transmedia SF is a professional media technology agency and studio that provides strategy, planning, execution and education services that enable our clients to effectively reach customers on all of their devices – anytime, everywhere. Our focus is on developing your core story, matching that story to the needs of your audience, and to delivering your story via all of the devices and platforms that your audiences use and access on a regular basis.
Hardware Massive is an exciting new platform that allows everyone in the hardware startup ecosystem to meet, learn and collaborate through events all around the world and online. Think Meetup.com meets LinkedIn for the hardware startup ecosystem.
We bring hardware startups and service providers face-to-face at local chapter events and then allow members to continue those conversations globally on our extensive online platform with all the extra support that it provides including:
Videos of event presentations, Educational and timely blog articles, Searchable member database, Access to exclusive services and resources, And much more.
Hardware Massive's mission is to enable hardware entrepreneurs, service providers, investors, and leaders to connect, share, learn and grow with each other. We believe in order to empower the hardware startup revolution, we need to transform the hardware startup ecosystem into an integrated global community. Connect with us on: https://hardwaremassive.com
Keyframe-Entertainment is proud to be supporting HardwareCon as Media Sponsor. Keyframe-Entertainment produces, finances, and distributes cutting-edge projects. By INSPIRING, INFORMING and ENTERTAINING through film, electronic music, visionary art, community building, and Transformational Festival culture, we aspire to create global positive change. Keyframe also offers marketing support, press releases and strategic networking to DJs, producers, companies, filmmakers, nonprofits, and festivals.