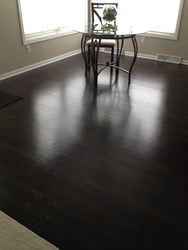 Revealing the Most Professional, Yet Affordable, Hardwood Floor Restoration Services in Milwaukee, Courtesy of Hard Wood Specialist, Royal Wood Floors
Milwaukee, WI (PRWEB) December 27, 2013
The most professional and affordable hardwood floor restoration services are now accessible in Milwaukee, with the team at Royal Wood Floors, a leading specialty company providing homeowners, property owners, and commercial businesses with top notch hardwood flooring services.
For top craftsmanship, be it restoration, installation, or routine maintenance, this company is the go-to source in this geographical area, offering the top experienced flooring team for all things hardwood.
Not only is hardwood durable and stylish, it's easy to care for. Unlike other types of flooring, wood is a cinch to clean-up and a little routine maintenance goes a long way. With the proper care, wood flooring can last generations.
Caring for Hardwood Floors
Homeowners, rental property owners and businesses with hardwood floors in Milwaukee, can now choose a wood flooring certified professional with a Better Business Bureau, A+ Rating, courtesy of Keith Allman, head of Royal Wood Floors.
The company states that spills ought to be cleaned-up immediately before moisture is allowed to soak into the grain. However, it's best not to use things like oil based, wax, polish, or ammoniated or abrasive cleaners as these can cause damage to wood.
With just a bit of dusting, a broom and vacuuming, hardwood can be cleaned in moments, keeping dirt and small particles from settling into the grain.
Professional Advice from Royal Wood Floors
The team at the company likewise recommends homeowners and businesses try to keep humidity levels as consistent as possible. Fluctuations in moisture levels can cause planks to warp, and become discolored.
When it comes time to restore the floor; it's best to leave the job to a licensed and certified professional service. It's easy as a novice to make simple mistakes that can cause damage to hardwood planks when trying to restore a floor on one's own.
For more information about these experienced and professional hardwood floor restoration services, or to schedule other top notch hardwood flooring services, phone Keith Allman at 414-378-2066. Estimates and appointments can be made through the company's website at, http://www.royalwoodfloor.com. The company provides top craftsmanship and cares for many types of custom and domestic wood styles.