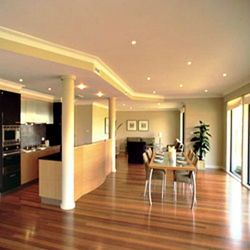 Introducing the Best Equipped, Most Experienced, Affordable, Hardwood Flooring Milwaukee has to Offer, Courtesy of Royal Wood Floors
Milwaukee, WI (PRWEB) July 02, 2014
This is the best hardwood flooring Milwaukee has to offer, and it comes at an affordable price. What's more, these professionals provide top quality hardwood flooring refinishing services which meet and surpass all customer expectations. For the most reliable, low cost wood floor refinishing, this experienced professional wood floor restoration service is the go-to source.
Hardwood is the best choice for homeowners, and a recent survey conducted by the National Association of Realtors has revealed that hardwood flooring is the most prevalent request by homeowners and consumers in the market, whether to purchase their primary or secondary residence. The reason given is the beauty wood flooring provides, and the ease of care that it requires. The study also finds that hardwood is preferred to carpet because fabric tears and frays. What's more, the survey found homeowners opt for hardwood over tile because of the costly and time consuming care of the grout.
Durable and long lasting, hardwood is available in many styles and is warm and inviting. It creates a sense of space and improves the aesthetics of a home or business, which increases property values. In addition, hardwood, unlike tile and carpet, if damaged or worn, can be restored rather than completely replaced. What's more, hardwood, especially compared to carpet, collects less dust and allergens.
Hardwood also provides a home or business with better acoustics, and gives consumers more natural variety than other kinds of flooring. Other flooring types show their age and begin to lose their new beauty in a short amount of time. However, hardwood looks better with age and can be buffed, refinished, and restored for decades and decades longer than any other flooring choice.
Homeowners and business owners can protect their hardwood floors by routinely sweeping and keeping humidity levels near constant. With just a little care, wood flooring offers the most durability, the best life value, and return on investment than tile, laminate, or carpet.
For more information about this experienced and professional wood flooring contractor or to schedule repairs by this hardwood floor company, or learn about custom wood styles or the company's inlay and medallion installation services, phone Keith Allman at 414-378-2066. Estimates and appointments are currently available through the company's website, RoyalWoodFloor.com. The company provides top craftsmanship and cares for many types of custom and domestic wood. Visit the company's website for examples of previous work at http://www.royalwoodfloor.com.