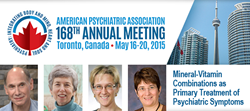 We are at the precipice of a huge paradigm shift in psychiatry.
Raymond, AB (PRWEB) May 13, 2015
Nutritional psychiatry will be the topic of a three-hour symposium, "Mineral-Vitamin Combinations as Primary Treatment of Psychiatric Symptoms" at the American Psychiatric Association Annual Meeting in Toronto, Canada on May 20, 2015. According to the American Psychiatric Association, this type of symposium is "intended to highlight important new advances occurring in the field of psychiatry".
Expert presenters at the symposium include independent clinicians and researchers from top universities (Harvard University, the University of Canterbury (New Zealand), the University of Calgary, and Ohio State University) who actively use Hardy Nutritionals® formulas in clinical practice or research.
Hardy Nutritionals® founder David Hardy comments, "This event reflects the increasing level of legitimacy we've witnessed in the field of nutritional psychiatry over the past few years. I believe we are at the precipice of a huge paradigm shift in psychiatry. Many psychiatrists now use our specialized nutritional formulas as a first-line treatment for mood, anxiety, and behavioral disorders because they are more effective and much better tolerated than psychiatric medications."
David Hardy has formulated the majority of the broad-spectrum micronutrient treatments that have been studied by researchers and used in clinical practice over the past decade. Recent research published in BMC Psychiatry noted, "There is more published and ongoing research on [Hardy's formulas] for mental health than on any other complex formula anywhere in the world." Hardy's formulas are backed by more than 20 medical journal publications, including double-blind research.
Health professionals who attend the symposium or experience the presentations online after the event can earn 'continuing medical education credits' required to maintain their medical licenses.
Symposium presentations include the following:
1. Scientific Rationale for Broad Spectrum Micronutrient Treatments of Brain Function
Presented by Charles Popper, M.D., Harvard Medical School
2. Treatment of Aggression, Mood, Attention-Deficit/Hyperactivity Disorder, and Addictions with Multi-nutrient Formulas: The Evidence to Date
Presented by Julia J. Rucklidge, Ph.D., University of Canterbury (New Zealand)
3. Treatment of Anxiety and Stress with Multi-nutrient Formulas
Presented by Bonnie J. Kaplan, Ph.D., University of Calgary
4. Clinical Approach to Use of Multi-nutrient Formulas: Prioritizing Safety
Presented by Barbara L. Gracious, M.D., Ohio State University
For more information about the presenters, read this NutraTalk Blog article.
About Hardy Nutritionals®
For nearly 20 years, Hardy Nutritionals® scientists have produced technology-enhanced multivitamin-mineral formulations for both clinical and general health use. Hardy Nutritionals® works with many clinicians who use its products in their practices as a first line of defense against mood, stress, and anxiety-related disorders. Exciting double-blind research is currently underway using Hardy's newest clinical-strength formulation, Daily Essential Nutrients.