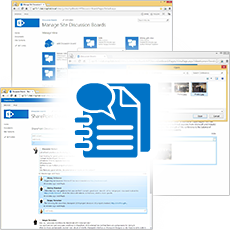 (PRWEB) October 02, 2013
Microsoft SharePoint offers a range of out of box features for team interaction and communication. One of them is a Discussion Board feature: this effective tool enables organization of discussions – an initial post containing a statement or question on which other team members can comments.
Perhaps the main advantage of discussion boards is the reduction of time spent in 'offline' meetings and the possibility to get reactions quickly and collected in one place – all these things make discussions more efficient. Standard options like moderation and permissions are supported by this feature and support whatever level of moderation is required.
It's difficult to find flaws in the out of the box Discussion Board if it's utilized with the correct settings and for appropriate purposes; however, the developers at HarePoint thought about another important thing – interactivity. Most of today's users are actively involved in social networks (like Facebook, LinkedIn or Twitter), so posting and commenting with immediate appearance of added content is the expected standard for discussions.
HarePoint Discussion Board provides an ideal opportunity for interaction and collaboration among team members, allowing real-time discussions by showing all new posts, replies and comments in the order of their appearance and without reloading the page. This feature makes the product a unique offering among SharePoint-based discussions threads.
The other features of HarePoint Discussion Board include different discussion views and appearances; placement of discussions anywhere on sites; editing and removal of posts; adding attachments; moderation and permissions distribution; and compatibility with SharePoint 2010/2013 (as well as with Office 365 in the nearest future).
Detailed information about the product and a 30-day trial version are available at the HarePoint Knowledge Base home page. There is also a product demo that allows reviewing the feature in 'working' mode.