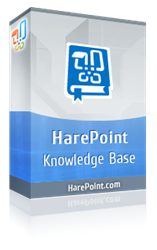 (PRWEB) August 05, 2013
Knowledge bases are widely used in daily operations in all types of businesses, as they save enterprises money by decreasing the amount of time spent by employees, customers, and users trying to find required information.
The recipe for a successful knowledge base, one that will meet the needs of users, is simple: a clear and logical interface, an elaborate system of categorization (configurable structure of categories, subcategories, and tags), user permissions system (administrator, editor, or user), interactive content assessment (ratings, comments), change tracking, and fast and relevant search.
All this is fully implemented in HarePoint Knowledge Base. However, unlike universal knowledge bases, this product is designed specifically for use on websites and in portals based on SharePoint. This difference offers major pluses, including fast installation, minimum configuration and immediate availability to work. "The basic idea is that a SharePoint case administrator can deploy and set up the product within a few minutes, without any problems, and then editors can fill the knowledge base with content "- Alexei Shlibanov, software architect, commenting on the advantages of HarePoint Knowledge Base.
HarePoint Knowledge Base is a complementary product to HarePoint HelpDesk for SharePoint – a solution for helpdesk services also based on SharePoint sites. Deep integrated between these two products will be available shortly, providing an elegant solution to support employees with minimal investment in related software.
HarePoint Knowledge Base is compatible with Microsoft SharePoint 2010 and 2013. Detailed information about the product and a 30-day trial version are available at the HarePoint Knowledge Base homepage.