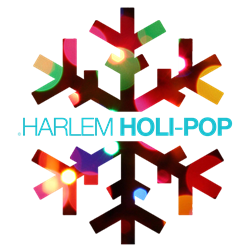 "We're opening a window to so much amazing talent: creating a destination shopping event."
New York, NY (PRWEB) November 25, 2013
Adding to the retail activity that is increasing in and around West 125th Street, Harlem Holi-Pop promises to bring the heat via its selection of clothing, shoes, accessories, beauty products, gift cards, and other covetable goods. By tapping into their connections within the realms of fashion, beauty, publishing, and design, Harris and Jones are looking to inject inspiration and excitement to the city's holiday shopping experience. In keeping with the theme of discovery, the duo chose Raw Space, one of Harlem's newest galleries and event venues, that is just a few blocks from the famed Apollo Theatre, as Harlem Holi Pop's debut location. From 12pm - 8pm each day, guests are invited to sip, groove and shop with the help of Hennessy sponsored cocktails, South African wine and rotating DJs.
When asked about her inspiration for Harlem Holi-Pop, Harris references her grandfather, who operated a unique antique and furniture store in Harlem on 125th Street. Harris wanted to create a space in which people could experience those same feelings of discovery she remembers growing up. Harlem Holi-Pop will also serve as a soft launch of her company, FEMbotcosmetics, built on nearly two decades in the beauty industry, working beside marquee names such as Pat McGrath, Francois Nars, Laura Mercier, and Billy B.
For Jones, Harlem Holi-Pop is the next logical step in his mission to 'curate the creative collective' i.e. bringing together like-minded energies for social and spiritual connectivity. The celebrity stylist has worked with a range of A-listers, including Halle Berry, Mary J Blige, Lenny Kravitz, and First Lady Michelle Obama. This past September, during New York Fashion Week, Jones introduced his eponymous Resort-inspired collection that has already sold out at key retailers such as the Escape Boutique at The Cove/Paradise Atlantis, Bahamas. With this pop-up shop, Jones is excited about "creating a new tradition" while utilizing the opportunity to produce clothing available for sale for the first time in the U.S. As a long-time resident of Harlem, Jones says, " "We're opening a window to so much amazing talent: creating a destination shopping event."
Designers and Vendors confirmed at this event include…
ANYA AYOUNG CHEE
Women's apparel from Project Runway Season 9 Winner;
CARLTON JONES http://www.carltonjonesnyc.com
Fall 2013 and Resort 2014 pre-collection;
DLOinfusionBAR
The world's 1st Certified Organic Mocktail Bar serving only non-alcoholic fruit-infused cocktails;
FEMBOTcosmetics http://www.fembotcosmetics.com
Pre-launch of cosmetics collection from fashion and film's Melanie Harris;
GWYNETH SHOES 
A collection of stylish, sophisticated and comfortable shoes for real women by industry veteran, Gwyn Frempong Boadu;
KIMBERLY GOLDSON
Project Runway finalist and Brooklyn based brand of tuxedo inspired suits, statement dresses and versatile separates;
LAURENCE BASSE
Recently launched collection featuring leathers and accessories from former model, Laurence Basse;
MANHATTAN VALLEY WINE AND SPIRITS
This family-owned business has served the uptown community for decades;
McKENZIE LIAUTAUD
Glamorous tribal accessories, using artisan elements from around the globe;
PIERRE LABORDE
Handcrafted vintage style accessories with a modern sensibility;
TASHA WEST JEWELRY
Timeless metal jewelry with 'a beautiful balance of bold and subtle';
108 STITCHES HARRIETTE COLE COLLECTION
Meditation-inspired collection of wearable crochet art from life stylist Harriette Cole;
Also featuring handmade ceramic art from Man Daisy Pottery by GREGG HUBBARD; Martine-designed Pima cotton T-shirts from HOUSE of ALCHEMI and vibrant urban-inspired sportswear from RICH KIM MENSWEAR...
A portion of proceeds from sales at Harlem Holi-Pop will benefit ALPHA WORKSHOPS http://alphaworkshops.org, the nation's only non-profit organization providing creative HIV-positive individuals with industry specific training and employment in decorative arts.
We look forward to seeing you on Saturday, November 30 and/or Sunday, December 1, 2013!
For more information, please visit http://harlemholipop.com/
@HarlemHoliPop Instagram, Facebook, Twitter