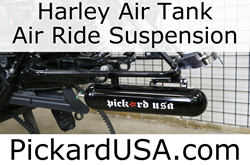 Pickard USA has the best Harley Air Tank for air ride suspension systems
Dallas, TX (PRWEB) November 20, 2014
Be sure to check out the latest Harley Air Tanks for custom motorcycle and bagger air suspension systems from Pickard USA. For more info visit the website at http://pickardusa.com/product/harley-air-tank/.
The new 66oz tank for Harley air ride suspension systems will make all the difference for bikers who hate waiting to fill up their shocks. The tank works in conjunction with a compressor, solenoids and a pressure switch. Instant air tanks are referred to by people wanting a tank that holds enough pressure to get the shocks full the first time. No more sitting around while the compressor runs to initially pressurize the system.
The new bagger air tank for Harley air suspension systems make any custom bike much more enjoyable to ride. Enjoy the modern luxury of a smooth ride with the latest technology versus feeling like a slave to the machine with small tanks or compressors only.
One flick of the switch will instantly pressurize the tank which is perfect for a bagger air ride front end. With a full tank it only takes a couple seconds for the shocks to fill up, raising the bike off the ground with this new high pressure air ride system. The tank has enough pressure to raise a bike about 4 times before needing to "reload". Other accessories can also be used with stored pressure from this new Pickard USA Bagger air ride tank.
The tank holds enough volume to run a few complete cycles before the pressure switch activates the compressor. The pressurized canisters are designed to be mounted under the left saddlebag on a custom Harley bagger and must have either a single right side exhaust, or side exit exhaust for proper installation.
The new bagger air ride suspension air tanks have caps with rounded domes to improve strength. By avoiding square edges, which have a higher chance of failing, the new rounded end tanks provide a clean seamless look with the highest structural integrity. Each can is individually pressure tested by technicians at the Pickard USA manufacturing plant in Richardson just minutes north of Dallas, Texas.
Each Harley air tank kit comes complete with fittings, pressure switch, and mounting hardware needed for installation. This bagger air ride kit can be easily added to your existing air ride set up, or you can get a complete FAST air ride kit from Pickard USA. Be sure to ask about a Pickard USA front and rear Harley air suspension kit or package for your next custom build. For more info visit the website at http://pickardusa.com/product/harley-air-tank/.