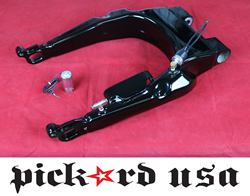 Best Harley Swing Arm Air Tank For Baggers
Dallas, TX (PRWEB) March 25, 2015
Pickard USA is launching its new Harley swingarm air tank for custom baggers which appears to be the first one available from a custom Harley Bagger aftermarket parts manufacturer. Any biker looking to customize a Harley Road King, Road Glide, or Street Glide Touring Model with extended stretched saddlebags will love this new system. To get more info click here to visit the website at Pickardusa.com
The problem with Harley Baggers running a dual exhaust system is they don't have room for an air tank. Sure, someone might place a tank in the bags, but who wants to waste the space? This new air tank is "built into the swing arm" which is the most efficient and clean setup for custom baggers running an instant air ride system. And by "built into the swingarm" this means that the swing arm is transformed into an air tank. This is done by welding the holes shut and installing the air fittings needed for custom air ride suspension.
It comes with two 1/8" NPT fittings for the pressure switch and air line. The bagger swing arm tank comes with bushings pressed in, pressure switch, solenoid, air fitting and a fresh powder coat finish. The vessel is tested to 180 psi. This is currently being offered as an exchange only item, which could possibly change in the future if a customer wants to pay more without using the core exchange program. Presently a customer must send in their stock 09 and up swingarm in exchange for the modified one from Pickard USA.
Now bikers can enjoy a Harley fast air system on their bagger with the cleanest setup available. Pickard USA also offers both front and rear air ride suspension systems for Harley touring models. The Pickard USA compressor bracket is perfect for mounting the compressor neatly on the saddle bag rail.
Pickard USA is an aftermarket parts manufacturer for custom Harley Baggers offering front end packages, rear end packages, and even entire full body packages for anyone wanting to completely customize an entire bike from front to rear. For more information click here to visit the website at PickardUSA.com