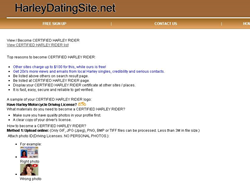 (PRWEB) June 12, 2015
The month of May has brought some happiness among users of leading 'biker dating' website HarleyDatingSite.net. The website recently launched a brand new feature named "Certified Biker" that is aimed at making online dating safer.
A representative of the website was quoted as saying, "We are committed to providing a safe and secure dating platform, where users can interact with like – minded people and find their ideal match. Our team thoroughly understands the importance of online security and follows stringent norms to ensure user safety isn't compromised. The new feature that has been rolled out would ensure users interact with others without worrying about their authenticity."
When a user opts to become a 'certified biker', he would have to provide all the necessary documents as proof of all the information furnished in the profile. The website claims to have appointed a dedicated team to cater to these users. "When all the information provided by a user has been verified by us, it is very unlikely that he would turn out to be a scammer. I doubt if any person would hesitate while sending a message to a certified biker", the representative added.
While there is absolutely no doubt about the fact that 'online dating' has become increasingly popular over the years, experts believe that dating online can put privacy at stake. HarleyDatingSite.net hopes to resolve all the privacy concerns by the launch of this feature. In order to become a 'certified biker' you'd have to become a premium user and provide supporting documents that verify all the information that you've given.