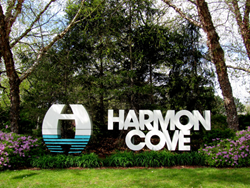 Harmon Cove offers incredible amenities for every conceivable interest – this is why Harmon Cove is one of the most popular residential condominium communities in northern New Jersey
Secaucus, New Jersey (PRWEB) October 30, 2015
mem property management corporation was recently selected as the new property management company for the Harmon Cove Recreation Association, representing the community and recreational facilities serving the residents living in The Harmon Cove condominium complex in Secaucus, New Jersey.
Harmon Cove, consisting of over 1200 residential condominium townhouses and high-rise luxury condos, features a gatehouse entrance with 24-hour security, recreational clubhouse, pool, tennis courts, a playground and almost 4 miles of paved trails that link the river front and woodland settings of Harmon Cove.
The communities share basketball and volleyball courts and a fenced children's playground which includes two jungle gyms, five swings, a sandbox, rocking horses and benches for parents and grandparents.
mem property management will be responsible for managing and maintaining the recreational facilities at Harmon Cove, including the Clubhouse, Cove Club, kayak dock, playground, tennis courts (recently refurbished with the same surface used at the U.S. Open in Forest Hills), pool (open daily throughout the summer) and a variety of walking paths bordering the tidal basin of the Hackensack River and scenic woodlands with flowering trees and exotic species of birds.
"We are very excited to be chosen as the new management company for the Harmon Cove Recreation Association and we look forward to working closely with the Board to deliver the highest level of services to the residents," says Martin Laderman, founder and CEO of mem property management co.
Harmon Cove is one of northern New Jersey's most convenient and well-maintained condominium communities and residents enjoy an easy commute of less than 30-minutes to New York City. Bus and rail transportation from Harmon Cove allow convenient connections to regional and national carriers like AMTRAK, New York Metro North and New Jersey Transit through Grand Central, Port Authority and Penn Stations in New York City, the New Jersey Transit Station in Hoboken, and Union Station in Newark. The Secaucus Junction Rail Station located just two miles from Harmon Cove.
"Harmon Cove offers incredible amenities for every conceivable interest – this is why Harmon Cove is one of the most popular residential condominium communities in northern New Jersey," said Laderman.
About mem property management company
mem property management corp is a privately held New Jersey property management company founded by Martin H. Laderman with the vision to increase property value through solid, experienced management. Since that time the company has expanded to manage dozens of properties from its New York border to the Jersey Shore and Gold Coast.
mem property management services some of the finest communities throughout New Jersey including many of the major developers and builders as well as communities as diverse as small ocean-front condominiums to large master-planned communities with several hundred homes to age-restricted retirement communities.
To learn more about mem property management news, services or its policies, please visit http://www.memproperty.com/ or call (201) 798-­1080.