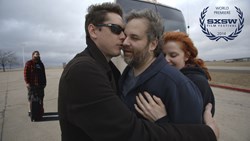 Burbank, CA (PRWEB) January 31, 2014
"Harmontown", director Neil Berkeley's feature-length documentary film based on TV writer/producer Dan Harmon's popular weekly podcast, has been named an official selection of the 2014 South by Southwest® festival (SXSW®) in Austin, TX.
"Harmontown" is a comedic, brutally honest documentary following Dan Harmon (NBC's "Community", Adult Swim's "Rick and Morty") as he takes his live podcast on a national tour. The film joins Harmon, long time friend Jeff B. Davis (Whose Line is it Anyway), regular guest Erin McGathy (This Feels Terrible) and Game Master Spencer Crittenden as they bring live, town hall style rants to sold-out audiences around the country.
An intimate and revealing look into the life and headspace of a classic tortured creative, "Harmontown" gives filmmaker Neil Berkeley unfiltered access. Dan Harmon takes himself on a journey of self-discovery and the film finds him opening up on camera.
A co-production of Starburns Industries and Future You Pictures, the film marks director Neil Berkeley's second feature-length documentary. "Beauty is Embarrassing", a documentary about artist Wayne White, premiered at SXSW in 2012 to critical acclaim. Dan Harmon and Neil Berkeley will be available for interviews during SXSW.
About Harmontown
Featuring an irreverent and sadistically honest social commentary on all things personal and pop-culture, the Harmontown podcast began in 2012 as a way for creator Dan Harmon to connect with fans through an unfiltered medium where no subject was off limits. The podcast quickly grew in popularity and gained a cult following, with nearly a hundred thousand devoted listeners downloading each week's episode.
About Future You Pictures
Future You Pictures is a Los Angeles film and television production company founded in 2009 by Neil Berkeley. "Harmontown" is the company's second feature documentary production. The company is currently developing a roster of television and film projects. Future You Pictures is one of several companies controlled by The Berkeley Company, LLC., which also owns BRKLY, a design based production company focusing on brand development and marketing for television, film and commercials.
ABOUT SXSW
The South by Southwest® (SXSW®) Conferences & Festivals offer the unique convergence of original music, independent films, and emerging technologies. Fostering creative and professional growth alike, SXSW is the premier destination for discovery.
ABOUT STARBURNS INDUSTRIES
Under the creative partnership of Dan Harmon (NBC's "Community", Adult's Swim's "Rick and Morty", Channel 101) Dino Stamatopoulos (HBO's "Mr. Show", "Conan", Adult Swim's "Moral Orel" and "Mary Shelley's Frankenhole"), Joe Russo II ("The Simpsons", "Rug Rats") and James A. Fino ("King of the Hill"), the company produces TV shows, features, commercials and new media projects. Starburns is currently in production on "Anomalisa", the stop-motion animated feature written by Charlie Kaufman and the studio is home to Adult Swim's hit animated show, "Rick and Morty", co-created by Dan Harmon and Justin Roiland (Channel 101, "House of Cosbys"). Starburns Industries is a full-scale production studio based in Burbank, CA.