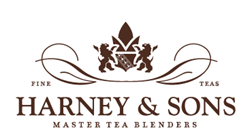 New York, New York (PRWEB) October 22, 2013
Harney & Sons Fine Teas celebrates their 30th holiday season in the gourmet food and beverage industry. Founder John Harney began his journey in 1983, mastering the craft of tea blending, while starting production out of his basement. Today, Harney & Sons Tea remains family owned and managed, with three generations of Harneys traveling the world in search of the finest teas and creating innovative blends.
Headquartered in Millerton, New York, Harney & Sons Fine Teas fills 90,000 square feet of warehouse space and employs more than 170 people. The company sources, blends, and packages their own product from start to finish. The original six teas developed by Mr. Harney have since grown into more than 300.
This year, Harney & Sons expands their reach through their global digital initiative and their national roll-out in Target. The company has optimized their website to enhance the tea drinker's experience through interactive modules and engaging in-depth tea background and information. In addition, Harney & Sons Tea now lines the shelves of 1,600 Targets around the country, making their quality luxury blends affordable and accessible to all.
The Harneys reflect on their 30 years of success as a family business. Three active generations work together, continuing John Harney's mission to provide the world with quality tea. John's sons, Paul and Michael serve as the company's vice presidents. Michael's wife Brigitte, and two sons, Alex and Emeric take a dynamic role in the company. Emeric is the manager of the Harney & Sons Soho Tea Shop: he is also involved in blending and takes a lead in the company's branding and marketing initiatives. Alex Harney is the manager of the Harney & Sons Café in Millerton, New York, and has become the company's director of film and photography. Alex and Emeric have traveled around the world searching for the finest ingredients, following their uncles' and father's footsteps. This multi-generation operation preserves the very foundation of American family businesses.
The Harney family not only works to pass on their tradition of tea, but also strives to positively impact their community. In 2006, Michael and Paul Harney joined the organization 1% for the Planet. This provides Harney & Sons with the opportunity to drive positive environmental change. Their membership with 1% for the Planet means that the company directly donates one percent of their total sales to environmental organizations. As of date, the company has given back more than $500,000.
This holiday season, the Harney family has put together special gifts for tea drinkers to share with their loved ones. Customers may choose from a variety of gifts appealing to all price points. Harney & Sons combines the festive colors and scents of the season in their Holiday Gift: reds and greens, cinnamon, nutmeg, and citrus all blend to welcome in the holidays. Their Holiday tea is a year-round favorite crafted with rich spices and citrus blended with black tea. Gifts are paired with tea treats and festive tea wares.
From Harney & Sons Winter Gift, which features herbal peppermint tea and Winter White Early Grey, to the Royal Gift, which highlights the Historic Royal Palace collection, all gifts have been selected to pass on and share the family's passion for quality tea.
About Harney & Sons Fine Teas
This year, Harney & Sons Fine Teas celebrates 30 years of success. With three active generations working in and dedicated to the family business, they specialize in delivering high-quality teas and tea products to their customers from the tea garden to teacup. Their goal is to bring the exotic aromas and refined tastes from around the world to tea drinkers as an affordable luxury.