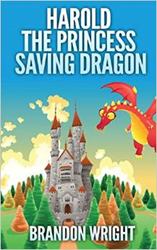 Harold the Princess Saving Dragon is Released by Author Brandon Wright on Amazon
Columbus, IN (PRWEB) June 30, 2014
Autism, Arnold Chiari Malformation, deafness, and regular visits to the Children's Hospital inspired Wright to pen Harold the Princess Saving Dragon, a story of a dragon who, though disabled, raises above other's expectations and becomes the hero and saves the princess.
Harold has always known he was destined for better things. Just because he had a lame leg, didn't mean he couldn't be a dragon. The dragon council was determined to send Harold out to the wild, to be exiled from their lair, but Harold had other plans.
Harold set out on his own to find an adventure, and what he found was much more than that.
The Author, Brandon Wright, was born and raised in Indiana. He was raised to always follow his dreams, and as he grew up he did exactly that. At the age of 22, Wright had started two companies and began self teaching himself how to develop websites. 5 years later he sold his companies and followed a new dream, to start writing again. Wright is a paranormal fan, loves to read, write, and spend time with his family. Wright's debut book was "Survival of the Unfittest", and Undead Diaries Series volumes.
Harold the Princess Saving Dragon is available in both Paperback, and Kindle editions, and can be purchased at http://www.amazon.com/Harold-Princess-Saving-Dragon-Brandon/dp/0692027947.
With the recent increases in autism recognition and new approaches to educating and socializing autistics, an autistic culture has begun to develop. Autistic culture is based on a belief that autism is a unique way of being and not a disorder to be cured. The Aspie world, as it is sometimes called, contains people with Asperger syndrome (AS) and high functioning autism (HFA), and can be linked to three historical trends: the emergence of AS and HFA as labels, the emergence of the disability rights movement, and the rise of the Internet. Autistic communities exist both online and offline; many people use these for support and communication with others like themselves, as the social limitations of autism make it difficult to make friends, to establish support within general society, and to construct an identity within society.
Because many autistics find it easier to communicate online than in person, a large number of online resources are available. Some individuals with autism learn sign language, participate in online chat rooms, discussion boards, and websites, or use communication devices at autism-community social events such as Autreat. The Internet helps bypass non-verbal cues and emotional sharing that autistics find so hard to interact with. It gives autistic individuals a way to communicate and form online communities.
Conducting work, conversation and interviews online in chat rooms, rather than via phone calls or personal contact, helps level the playing field for autistics. A New York Times article said "the impact of the Internet on autistics may one day be compared in magnitude to the spread of sign language among the deaf" because it opens new opportunities for communication by filtering out "sensory overload that impedes communication among autistics".
Online interaction has disadvantages. Overreliance on the Internet for social interaction can lead to reduction in already-limited human contact. Much misinformation and fraud is available online. Because people with ASD often interpret sources literally, it may be particularly difficult for them to tell whether an online correspondent is lying. Based on unreliable information, people diagnose themselves with Asperger syndrome and related conditions, and then present themselves as individuals with genuine ASD.
Brandon Wright's previous publication, Survival of the Unfittest: The Undead Diaries Series (Volume 1), can be purchased in Paperback or Kindle editions at http://www.amazon.com/Survival-Unfittest-Undead-Diaries-1/dp/1480216232.