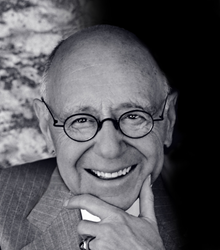 Harold Tivol had a way of making each and every person feel special; his smile could light up a room. I feel honored to have known him, worked with him and to have called him my friend. He will be missed. He was the rarest of gems. May he rest in peace.
Kansas City MO (PRWEB) July 14, 2016
Harold Tivol, Chairman Emeritus of TIVOL Jewelers, passed away this morning while surrounded by his wife Ruthie, his children, grandchildren, great-grandchildren and beloved dog Charlie.
He was 92.
For anyone who owned a television and lived in Kansas City for the last 35 years, it seemed they knew Harold personally. During a highly successful advertising campaign that began in the 1980s and ran into the early 2000s, Harold appeared in a series of local commercials in which he constantly poked fun at himself. Usually appearing in a full suit or a tuxedo, Harold's humor was playful and self-deprecating. Yet his delivery dripped with charm, sophistication and warmth—perfectly reflecting the environment he created within his jewelry stores as well.
While Harold's personality was larger than life, so was his acumen for business.
Born to Charles and Mollie Tivol on September 28, 1923, Harold's father already owned a small jewelry store in downtown Kansas City, which he began in 1910. Harold grew up in the business, learning early on he had a natural passion as well as a good eye for jewelry. However, it wasn't until after serving in World War II that Harold joined the company as his father's business partner.
Ever the entrepreneur, in 1951 Harold helped encourage his father to relocate TIVOL to 220 Nichols Road on the Country Club Plaza, where the flagship store remains to this day. It was at this location the TIVOL brand began to build its mystique as the finest quality jeweler in the region, known for its high standards, ethical business practices and welcoming environment.
In 1977, Harold married Ruth Krigel, and together they grew the reputation of TIVOL on a global scale. They scoured the world for the best jewelry while focusing their product offerings on established and up-and-coming designers alike. Names such as David Yurman, Steven Lagos, Roberto Coin and Penny Preville all credit their introductions to Harold and Ruthie as game-changing events in their careers.
"Harold Tivol set the standard of success both professionally and personally," Preville said. "He paved the way for designer fine jewelry by being one of the first to welcome collections like mine into his stores. He also had a way of making each and every person feel special; his smile could light up a room. I feel honored to have known him, worked with him and to have called him my friend. He will be missed. He was the rarest of gems. May he rest in peace."
In the early 1980s, Harold began working with John Muller, who owned an advertising agency in Kansas City. During their initial meetings, the pair focused on finding a spokesperson to represent TIVOL in its commercials and print ads. After what Harold often referred to as an "exhaustive search," they decided to feature Harold himself. The campaign—which featured everything from Harold in a series of outlandish wigs and costumes to making hysterically funny statements about how many women his business had "satisfied" over the years—was an instant success.
In 2013, Harold was interviewed about the genesis of the campaign, as well as his willingness to go beyond the spectrum of traditional jewelry ads that were so pervasive within the industry.
"I'm always willing to try something new and different," Harold said. "I can't stand the status quo."
With this combination of clever advertising, an outstanding approach to business and Harold's ability to stand outside of the proverbial box, he received the Lifetime Achievement Award from Modern Jeweler Magazine in December 1988.
Over the next two decades that followed, Harold continued to grow the business by opening a second TIVOL location at the corner of 119th and Roe inside Hawthorne Plaza shopping center, and by twice expanding the Country Club Plaza location. Along the way in the mid-2000s, he named his daughter Cathy as his successor while he maintained an advisory role as Chairman Emeritus.
In addition to his landmark role at TIVOL, Harold served as president of the Country Club Plaza Association for more than a decade, and also was president of Oakwood Country Club. In 2002, he and Ruthie were honored with the Alfred Benjamin Friend of the Family Award from Jewish Family Services.
He was preceded in death by his beloved granddaughter, Brooke Tivol McGrath. He is survived by his wife, Ruth Tivol; his children, Cathy (Mark) Maslan, Tom (Susan) Tivol, Merilyn (Loren) Berenbom, Kathy (Scott) Hawley, and Jim (Felicia) Krigel; his grandchildren, Derek (Alison) McGrath, Hunter (Gloria) McGrath, Andrew Maslan, Danielle Maslan, Jacob Tivol, Anne (Victor) Wishna, Michael (Mollie) Berenbom, Katie (J.R.) Berger, Jonathan (Jessica) Stone, Jennifer Stone, Annah Krigel, Mayer Krigel, Kamden Krigel; great-grandchildren, Lydia, Cora, Brooke, Vivien, Abraham, Eliana, Adam; and loving nephews and nieces.
Established in 1910, TIVOL was founded in downtown Kansas City, Mo. by immigrant Charles Tivol. Today, the jewelry store has locations on Kansas City's Country Club Plaza and within Hawthorne Plaza in Overland Park, Kan. and remains family owned.
The iconic retailer provides an array of fine jewelry and timepieces to the Kansas City market and beyond, all while providing heroic, uncompromising customer service. TIVOL also enjoys a strong network of renowned designers and jewelry artisans as its partners—many of whom credit the company with helping them establish an industry name and reputation.
For more information, visit http://www.tivol.com or become a Facebook fan at http://www.Facebook.com/TivolKC.