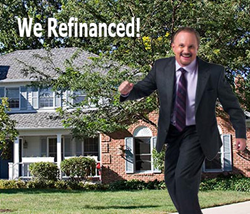 "Responsible homeowners should not have to sit and wait for the market to hit bottom to get relief when there are measures at hand that can make a meaningful difference. Homeowners can save thousands of dollars by refinancing." ~ White House
Twin Cities, Minnesota (PRWEB) September 26, 2013
To help homeowners keep their home, the Federal Housing Finance Agency (FHFA) recently launched a nationwide campaign to inform homeowners about the Home Affordable Refinance Program (HARP). The FHFA's intent is to inform underwater homeowners who have been making their monthly mortgage payments that they have the chance to approach their lender and determine eligibility to refinance through HARP.
"HARP refinancing is really so simple of a saving concept that eligible homeowners can quickly see the value of proceeding. It is an important opportunity for underwater homeowners to turn their home mortgage upright by refinancing at a lower rate. We urge homeowners to take a close look at HARP if they still owe more than their home is worth," states Jenna Thuening, owner of Home Destination.
It may be that a lack of knowledge or call to action may be holding some homeowners back. "With the launch of this campaign we look forward to reaching those homeowners who may not know about the program or understand the eligibility criteria to take advantage of today's low interest rates by refinancing through HARP," said FHFA acting director Edward DeMarco.
Along with FHFA's campaign, a new website has been created http://www.harp.gov. It's content consists of promotional information about HARP, HARP eligibility guidelines, how to advice for getting started, protections from HARP scams, and additional government links for related information.
Homeowner Eligibility Starting Points for HARP Refinancing:

No 30-day+ late payments in the last six months
No more than one late payment in the last 12 months
Your home is your primary residence, a 1-unit second home or a 1- to 4-unit investment property
The homeowners current loan-to-value (LTV) ratio must be higher than 80%. Calculate your LTV ratio with this tool. * Your loan was acquired by Freddie Mac or Fannie Mae on or before May 31, 2009. By using the loan look-up tools below, this date will be made available to you.
The housing recovery seems well underway! U.S. house price rises are consistent, consumer confidence is up, construction activity has been hitting highs not seen in years, and foreclosures are falling. Yet other homeowners still need a helping hand. Refinancing offers homeowners the change to reduce their monthly mortgage payments each month and thereby works to prevent further foreclosures. HARP refinancing at the past maximum loan-to-value (LTV) ratio have been set aside, and the 2% fees paid by some high-risk borrowers have been reduced or abolished in the new effort to reach more homeowners, according to the NuWire Investor.
"We need help getting the word out that home borrowers who are current on their mortgage payments have a greater opportunity to refinance their home and take advantage of interest rates while they are still low," states Thuening. "Tell family and friends that they can get out of the red tape that prevents many families from saving hundreds of dollars a month and thousands of dollars a year."
With little to no equity in their homes, HARP means homeowners can take advantage of low interest rates. Fannie Mae has prepared a Loan-to-Value calculator to help homeowners with underwater mortgages estimate how much is still owed on the mortgage compared to your home's current market value. This calculator will use the inputs entered; therefore, for accuracy it is key that accurate information is imputed in order to receive results you can work with.
Jenna Thuening is a Certified Distressed Property Expert who helps families stay in their homes and encourages HARP refinancing were it is the best option. Twin Cities residents seeking to buy a Minneapolis or St Paul area home or who wish to sell their real estate may reach Home Destination at 612-396-7832.