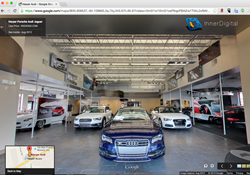 "Jonathan and his team did a marvelous job of mirroring our atmosphere in the digital world. Now our customers can take time to get to know us before they ever come into the showroom. - Shannon Harper, VP
Knoxville, TN (PRWEB) February 24, 2015
Adding to their list of successes, InnerDigital, LLC announces its latest Google Business View project. The company has provided a showroom virtual tour experience for Harper Audi to optimize sales and drive consumer traffic to their door. The Harper name has been synonymous with quality since 1981. Since opening, Harper has expanded to six dealerships, each catering to a different type of driver but providing the same level of excellence in sales and service. Being an industry leader, Harper Auto Square sets marketplace precedence by creating a 360-degree front and center experience complete with images of shiny makes and models all to ready for purchase.
InnerDigital's expertise in the creation of virtual tours to highlight the best a business has to offer is heralded in a comment from Shannon Harper, Vice President of Harper Auto Square. Mr. Harper said, "Jonathan and his team did a marvelous job of mirroring our atmosphere in the digital world. Now our customers can take time to get to know us before they ever come into the showroom. InnerDigital gives our customers a sense of comfort as well as creating more engagement without having to leave their couch!"
InnerDigital's Google Business View service is an essential addition to any business that prides itself for standing out in the crowd. Echoing the excitement about the project, Jonathan Price, CEO of InnerDigital said "We couldn't be happier to provide an outstanding virtual showroom experience for Harper Auto Square. A Google Maps tour is an incredible way to market your business in a digital world where people are so accustomed to the convenience of mobile shopping. Everyone is one click closer to walking in your front door right from a Google Search."
About InnerDigital, LLC:
InnerDigital, LLC is a technology and marketing company based in Jefferson City, Tennessee providing Knoxville, TN Google Business View virtual tours since 2012.
Contact:
Joe Sellars
Director of Business Development, InnerDigital, LLC
865.292.0250 x1
jsellars(AT)innerdigital.com
Harper Auto Square Audi Tour
http://www.innerdigital.com/harper-auto-square
InnerDigital Website:
http://www.innerdigital.com