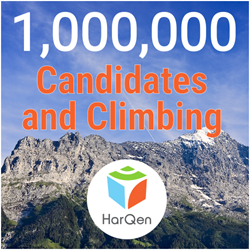 We are extremely proud to have been able to support so many job seekers on their career journeys, and the recruiters who assist them.
Milwaukee, WI (PRWEB) January 26, 2015
The New Year brought a new milestone as HarQen engaged its one-millionth candidate through Voice Advantage®, its award-winning digital interview platform.
"We are extremely proud to have been able to support so many job seekers on their career journeys, and the recruiters who assist them," said HarQen CEO, Ane Ohm. "Giving candidates the power to add their voices to the recruitment process in a way that's convenient for them is incredibly rewarding work. That, combined with all of the tangible business outcomes we have helped our clients achieve, is what drives us."
The focus on business outcomes is one of the key factors that differentiate HarQen in the recruitment space. HarQen uses its proprietary Recruitment Acceleration Management Process™ (RAMP) with its clients, analyzing the critical market objectives of each organization and mapping current and future states aligned to those objectives before installing its technology. "To serve both the candidate and the client best, we strive for a clear picture of what business problems the organization is trying to solve before we begin," said VP of Client Solutions, Kevin Lindbergh. HarQen outlined some key questions they use with their clients on its blog.
Engaging so many candidates has reinforced two key points for Ane Ohm. "Number one, recruitment technology has to work for the candidate. It should be insightful enough to get the information you need to make an informed hiring decision, but light enough that it is comfortable for candidates. Number two, it has to work for the recruiter. I don't just mean it has to be easy to use. It has to provide value for them and help them concentrate on their core responsibility, finding and hiring the best people. Those two statements are obvious but achieving them takes focus and work."
Candidate Engagement Data Points from 1,000,000 Connections:
-- Forty percent of completed responses took place outside of traditional business hours or on weekends.
-- Since adding iOS and Android apps to its suite, HarQen has seen 19% of candidates use a mobile device to complete video interviews.
-- HarQen clients have saved 17 years of time using Voice Advantage over traditional phone screens (baseline 20 minutes/per traditional phone screen).
ABOUT HARQEN:
Since 2007, HarQen has been helping Fortune 500 and mid-market clients align and accelerate their recruitment processes to deliver the business outcomes that matter to them. HarQen believes technology must play a key role in optimizing the recruitment process, but it cannot stand alone. It must be tied to key business outcomes and supported with change management and expert workflow installation.