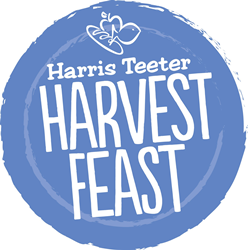 MATTHEWS, N.C. (PRWEB) November 14, 2022
On Tuesday, Nov. 15, 2022, Carolina Panthers center Bradley Bozeman, Harris Teeter associates, plus additional Carolina Panthers teammates will assemble 2,000 Thanksgiving meal bags. Those bags will be given to families-in-need by the Second Harvest Food Bank of Metrolina to make sure all families have a Thanksgiving meal this holiday. The bag assembly is hosted in conjunction with Harris Teeter's annual Harvest Feast food and fund drive; the bags will be distributed through the Second Harvest Food Bank of Metrolina's network of partner agencies.
Each Thanksgiving meal bag contains products for a delicious and easy Thanksgiving meal including: a whole turkey, stuffing, buttery mashed potatoes, gravy, corn, green beans, cranberry sauce, rolls and chocolate chip cookies.
This is the eleventh year that Harris Teeter is hosting a bag assembly in Charlotte as part of the company's annual Harvest Feast programming. Each bag assembled has enough food to provide a holiday meal to a family of four.
"The Bradley and Nikki Bozeman Foundation would like to thank Harris Teeter and Second Harvest Food Bank of Metrolina for the donation of Thanksgiving Food Bags and Turkeys which will help underserved communities throughout the Metrolina region," said Bradley Bozeman, Center of the Carolina Panthers and Co-Founder of the Bradley and Nikki Bozeman Foundation. "Hunger never takes a play off, so we are thankful for our partners who get into the trenches with us to help fight food insecurity one meal at a time!"
The Bradley and Nikki Bozeman Foundation is a non-profit organization which addresses food insecurity in communities, bullying in schools and other charitable endeavors. Their efforts began when they were both student athletes at the University of Alabama.
Harris Teeter would like to thank its generous vendors who made this donation possible: Cargill, Ocean Spray, Senaca Foods, Bruce's Yams, Idahoan Foods, McCormick, Kraft, and Kings Hawaiian.
This bag packing event is one of several events Harris Teeter will host throughout November and December as part of the Company's annual Harvest Feast programming. Throughout November and December, Harris Teeter will invite shoppers to Round Up their transaction at check-out to benefit its hunger-relief partners.
About Harris Teeter
Harris Teeter, with headquarters in Matthews, N.C., is a wholly-owned subsidiary of The Kroger Co. (NYSE: KR). The regional grocery chain employs approximately 35,000 associates and operates stores in North Carolina, South Carolina, Virginia, Georgia, Maryland, Delaware, Florida and the District of Columbia.
About Second Harvest Food Bank of Metrolina
Second Harvest Food Bank of Metrolina serves 24 counties in North and South
Carolina. In the fiscal year 2021-2022, Second Harvest Food Bank of Metrolina distributed over
75 million pounds of food and household items to over 950 hunger-feeding agencies including
emergency pantries, soup kitchens, homeless shelters, senior programs, and low-income
daycares.
For more information, please visit: https://www.secondharvestmetrolina.org