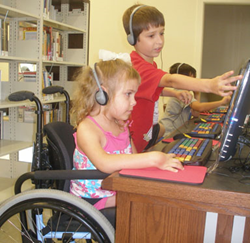 'We decided to add more stations as they are very popular and there is a strong demand for them,' - Celia Barrett, Gulfport Head Librarian
Chester, PA (PRWEB) August 26, 2014
The Harrison County Library System in Gulfport, Miss., has added nine new Early Literacy Stations™ to its library system. They are all Bilingual Spanish editions.
With the addition of these nine AWE Early Literacy Station touchscreen computers, the Harrison County Library System now has a total of 30 throughout its nine-branch system.
The Early Literacy Station (ELS) is a bundled touchscreen computer system designed for children approximately 2-8 years old. The Bilingual Spanish edition features 78 educational programs that offer hundreds of activities. The Early Literacy Station does not need to be connected to the Internet to operate. It features a child-friendly interface and intuitive content menu for easy navigation.
The early learning applications on the Early Literacy Station span every curriculum area: reading, language arts, math, science, STEM, social studies, writing, graphic arts, typing, music, and more. The content is correlated to Common Core standards. It also features a host of administrative controls including timed sessions and usage tracking.
"We have had Early Literacy Station computers for a number of years now and they are a valuable resource for children and families in our community. We decided to add more stations as they are very popular and there is a strong demand for them," said Celia Barrett, Gulfport Head Librarian. "We specifically chose the Bilingual Spanish versions of the Early Literacy Station to meet the needs of our diverse population."
The Early Literacy Station, AWE's flagship product, is found in more than 40% of the public library systems across the United States. The Early Literacy Station is available in English, Bilingual Spanish, and Bilingual French.
###
About the Harrison County Library System (http://harrison.lib.ms.us)
The Harrison County Library System, which has nine branches, seeks to provide library services to the citizens of Harrison County by effectively meeting the growing and changing cultural, educational, business, professional, and recreational needs of a diverse community. To this end, we see the tools of technology as a vitally important component of our developmental strategy. Our library system also serves as a lifelong learning and cultural center by providing traditional information resources; recreational reading; audio/visual materials; opportunities for independent learning; and a broad variety of programs designed to appeal to all members of the community. For more information, visit http://harrison.lib.ms.us.
About AWE, Inc. (http://www.awelearning.com)
AWE's mission is to inspire children to become lifelong learners and to create a "community learning" network that includes public libraries, schools, child care centers, and the home. AWE's engaging digital learning solutions feature intuitive learning environments, are easy to use, feature educational content across all subject areas, and can be personalized for every child. For more information, visit http://www.awelearning.com.